NFL Draft Represents First Step for Eight New NFL Head Coaches
Even after an NFL season that was full of parity, eight owners, or one quarter of the league, decided that it was time to move on from the men who had led their rosters through training camp and the regular season. Even though each of those new faces in new places will have begun to make their initial impression on the direction of their respective franchises in free agency, the first real step in their new careers will be the NFL draft.
Nobody taking over a new team ever really expects to inherit a talented roster, and even though it's not directly a reflection of the talent on the field, seven of the new teams are picking within the top 11 of the first round, with only the Chicago Bears reaching the far depths of 20th overall.
Because of the lack of top level quarterback talent, this draft likely won't determine how successful the new regimes will be over their spans with their franchises, but the early choices will go a long way in determining how successful they will be in the short-term. Initial impressions are always important for fans, but they can also determine how the new direction of the franchise is received within the walls.
Even seemingly minor differences could dramatically alter the future fortunes of any franchise. Had Lovie Smith brought in Chandler Jones, Mitchell Schwartz or Kevin Zeitler over Shea McClellin, his job may still be based in Chicago with the Bears, while a Ryan Tannehill-Doug Martin combination over a Trent Richardson and Brandon Weeden one would have significantly improved the Cleveland Browns' win total last year. Maybe even enough to sufficiently impress Jimmy Haslam.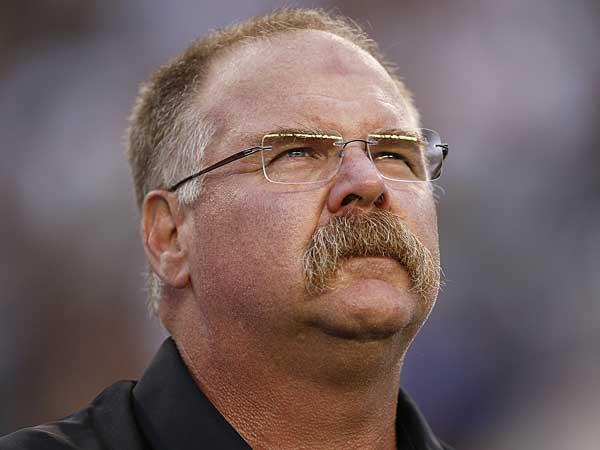 Kansas City Chiefs, Andy Reid.

For the coach taking over the franchise with the first overall pick, it is somewhat odd that former Philadelphia Eagles' head coach Andy Reid appears to be in the best new situation of any incoming coach.
The Chiefs' roster was littered with individual talent last season, but a severely bad coaching setup and no legitimate option at quarterback meant that they slumped to the worst record in the league. Reid has assembled an exciting new coaching staff and added two quarterbacks, Alex Smith and Chase Daniel, who should improve the situation under center significantly. Surpassed that, free agency was used to address other minor issues such as cornerback, inside linebacker and defensive end.
As a long-standing NFL head coach, Reid has made a seamless transition into his brand new surroundings. At least, seamless so far.
With Eric Winston released and Branden Albert unhappy with his situation under the franchise tag, the Chiefs are almost locked into drafting an offensive tackle atop the first round and are being forced to move Albert for below market value. Those issues are magnified by the fact that many believe the Chiefs drastically overpaid for Alex Smith, giving up a second round pick in a trade. So if the Chiefs bring back a second round pick for Albert, they have essentially dropped 10 places in the second round of the draft, added an underwhelming starting quarterback and given up both of their starting offensive tackles to do it.
Reid will obviously have a plan in place to ride out this off-season and set his team up to bounce back in 2013, but the draft could represent a rocky experience for him and his staff. If Reid takes Joeckel or Fisher, then the backlash for not just keeping Albert will be palpable. If he takes Dion Jordan or Star Lotulelei, then his offensive line has drastically deteriorated since last season.
His one saving grace may be a trade down with the top overall pick. The Chiefs could drop outside of the top 10 to pick up multiple mid round picks, which would allow them to address their remaining needs and potentially unearth a developmental quarterback to groom behind Smith and Daniel.
Jacksonville Jaguars, Gus Bradley.

Unlike Andy Reid, Gus Bradley is entering into his first ever role as a head coach. Bradley is just 46 years of age and has worked his way up through the college ranks and into the professional level. His first job came with the Tampa Bay Buccaneers, but he established his reputation as the defensive coordinator of the Seattle Seahawks over the last three years.
Bradley and new general manager Dave Caldwell have arrived together in Jacksonville, and Caldwell wasted little time in quenching one potential storyline. Speaking earlier this off-season, Caldwell stated of Blaine Gabbert, "What were they saying about other quarterbacks after their second year? We're looking for improvement (in his third year). We need to build around him. We'll upgrade whenever we can upgrade."
With that in mind, it will be more interesting to see exactly what areas the new regime looks to address to help Gabbert. The Jaguars' roster is so absent of talent that there is not one single position that they couldn't potentially look to upgrade upon. This means that Bradley and Caldwell can identify the most valuable player across their board and consider him without worrying about who that player is replacing. In this draft, that means they will have options on either side of the ball with the second overall pick.
Even with the presence of elite offensive tackle Eugene Monroe protecting the quarterback's blindside, the Jaguars are reportedly interested in spending a top five pick on another tackle to play on the right-side of their offensive line. Usually this wouldn't be an advisable move, but offensive tackle is the one position that would most help Gabbert on the offensive side, while Gus Bradley will feel that he doesn't need top talent to get good production from his defense.
As part of a team that specialized in unearthing diamonds from the rough in Seattle, Bradley played a key role in crafting together and coaching a Seahawks' defense that grew quickly from an inexperienced and inconsistent unit in 2009, to probably the best defense in the league in 2012. Even considering that though, the Jaguars' defense is full of players who have proven to be average or even worse than that. If Bradley can find a staple pass rusher or defensive back to start the process with, he could be tempted to pull the trigger.
Philadelphia Eagles, Chip Kelly.

Somewhat surprisingly, most of Chip Kelly's off-season work so far has been on the defensive side of the ball. Considering what Kelly's former offensive coordinator said about him…
"Chip has not said one word to me on the headset in four years as a head coach… He's never been in a meeting, he's never questioned a call. He's never said anything when we've played badly. He doesn't say a whole lot when we've played well. He's left me completely alone. It's been unbelievable autonomy."
…that is a major surprise.
The Eagles' defense did need serious re-tooling, while last year's offensive output wasn't reflective of the talent because of they repeatedly suffered through injuries unlike any other team. It's no real surprise that James Casey is the only notable offensive addition, while on defense Isaac Sopoaga, Connor Barwin, Bradley Fletcher, Patrick Chung, Kenny Philips and Cary Williams could all be Week 1 starters.
Kelly likely had very little input on those moves, but that doesn't mean that he won't be heavily involved in the draft process. Because he arrived from one of the top college programs in the country, Oregon, Kelly will not only have a strong understanding of the prospects from Oregon, but also the PAC-12 and college football nationwide. As Pete Carroll has proven in recent seasons, the network of coaches and scouts that he gleaned during his time in college could prove to be invaluable when trying to get as much value as possible from each pick.
One of the top prospects, Dion Jordan, played for Kelly last year, but a prospect at his position isn't very high on the Eagles' list of needs. Picking fourth in past drafts you would simply take the most talented player regardless of your current roster, but the Eagles do have a lot of talent in their front seven, where Jordan plays, and Jordan isn't considered a once-in-a-generation type of talent.
The most telling thing that Chip Kelly can do is at the quarterback position. The Eagles have Michael Vick, Nick Foles and Dennis Dixon currently on the roster. Vick doesn't have many years left in his career and is coming off an awful season, Dixon is a veteran who is yet to really get his chance to start while Foles showed promise as a rookie. If Kelly takes a developmental prospect even passed the first or second round, it would hint that he is still unsure of what he wants to do at the position.
Because of his reputation and the volatile fanbase in Philadelphia, Kelly can't afford to miss with his first draft class. Andy Reid had as much success as any realistic fanbase could expect in Philadelphia, but it still didn't take long for the whole city to seemingly turn on him.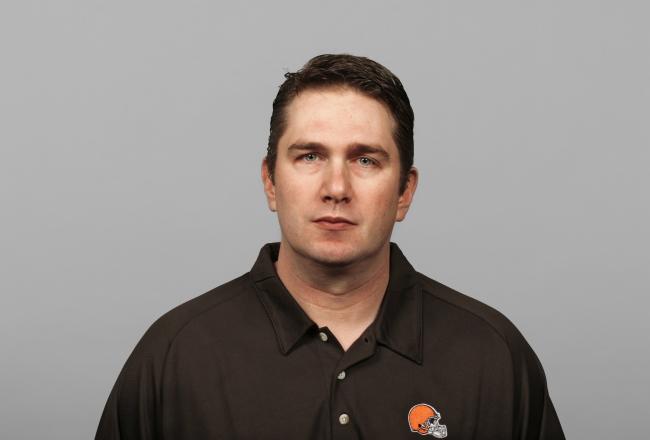 Cleveland Browns, Rob Chudzinski.

Pat Shurmur and Tom Heckert brought the Browns to a point where they were just one step away from being a team capable of making the playoffs. However, that one step was arguably the most crucial one, the quarterback position. The Browns seemingly whiffed on Brandon Weeden last year, after a disappointing rookie season. Even in spite of that, an argument can be made against Heckert and Shurmur's firings, but that argument quickly became moot when Jimmy Haslam took over.
Haslam brought in his own people, Rob Chudzinski as head coach and former NFL Network analyst Mike Lombardi as GM. Chudzinski, a young head coach, was quickly accompanied by veteran offensive coordinator Norv Turner and emerging defensive coordinator Ray Horton. The Browns have assembled the strongest coaching staff of any new regime, but the question marks over Lombardi's ability to build a roster remain.
This draft is going to be very intriguing for the Browns because of the quarterback position. There is no obvious option to take with the sixth overall pick, but neither Jason Campbell or Weeden are guaranteed starters entering next year either. How aggressive the Browns are in pursuit of their quarterback after their first pick will be very telling about the direction of this franchise.
Josh Gordon's selection in the second round of last year's supplemental draft means that the franchise has no second round pick to spend, so they either wait until the third round at the earliest to take a new signal-caller, or make a trade. That trade could involve moving down with their first overall pick or moving back up with their third. However, a real statement could be made if the franchise trades back into the first round with future selections.
Should the franchise's evaluators fall for any of Ryan Nassib, Geno Smith, Matt Barkley or Tyler Wilson, their aggression in pursuing that quarterback will prove whether they think they can add a franchise quarterback this off-season or not. If they don't believe any of these quarterbacks can elevate the position, then they will likely stand pat with Weeden and Campbell competing for the starting job. This will be a very important philosophical decision for the franchise at such an early point in the process.
Arizona Cardinals, Bruce Arians.

Having worked with Peyton Manning, Ben Roethlisberger and Andrew Luck before landing in Arizona, Bruce Arians quickly decided that he would prefer Carson Palmer over any top quarterback in this draft class. Arians acquired Palmer from the Oakland Raiders after also adding Drew Stanton to the roster and releasing Kevin Kolb. Surpassed that, Arians' off-season moves were limited by the team's cap situation.
He was able to add his former feature back from Pittsburgh, Rashard Mendenhall, but suffered sufficient defensive losses in Paris Lenon, Greg Toler, Kerry Rhodes and Adrian Wilson. Those losses could shape his first draft, but considering Arians' past, the Cardinals' current talent on offense and his scheme, the Cardinals will be desperate to rebuild their offensive line.
As much as the Cardinals have struggled with the quarterback position since Kurt Warner retired, the Cardinals' offensive line has severely negated any potential output the team's offense could manage. With how talented their defense was last year, Ken Whisenhunt could maybe have kept his job with better play in the area. An improved offensive line would give the offense an identity and allow them to at the very least become a balanced unit.
Arians has worked with some poor offensive lines in recent times and overcome them because of top-quality quarterback play. However, Palmer hasn't proved to be on the same level as Luck and Roethlisberger as of late, and if he trusts in his quarterback to compensate for his offensive line, that could prove to be a fatal decision.
Head coaches typically craft their teams in their own identity. Arians is an offensive coach who is taking over a team that has recently leaned on it's defense. In order to quickly change that identity, he must invest in an offensive line that could destroy all of his ideals.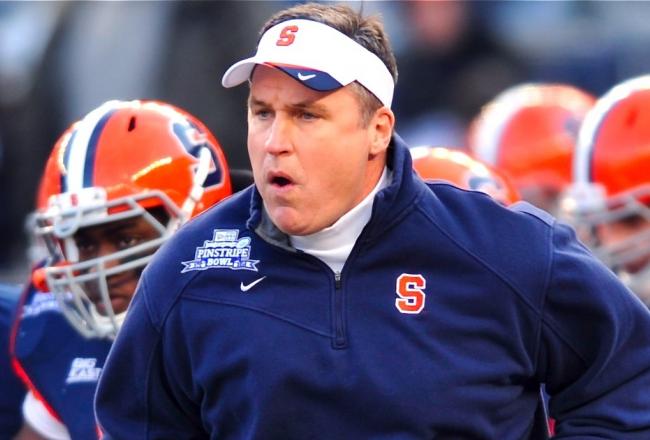 Buffalo Bills, Doug Marrone.

Having dropped down to the college ranks from the New Orleans Saints, Doug Marrone established his reputation at the university of Syracuse where he quickly turned around the fortunes of a downtrodden program. Marrone is inheriting a decent roster with a number of holes in key positions. Most notably, they need a new quarterback.
Having worked with Drew Brees, who only landed in New Orleans because of a shoulder injury that took away his free agent market, Marrone may feel confident that he can carry out a similar revitalization of Kevin Kolb's career. Kolb's situation is different to Brees' because he hasn't proven himself as a long-time starter in the past, but he did play very well when healthy for the Arizona Cardinals in a tough situation.
Behind the Cardinals' awful offensive line, Kolb extended plays, got the ball out quick and gave his receivers decent service over a short spell. A season-ending injury took away any chance of him finally proving the potential he had promised to have earlier in his career, but there is definitely still a talented quarterback underneath his helmet.
Kolb signed on in Buffalo looking to compete for a starting job, but Marrone's college quarterback is available in the draft, Ryan Nassib, while many media outlets are reporting that the Bills have strong interest in Matt Barkley. Barkley and Nassib are both polarizing prospects, so it will be telling about what Marrone thinks of his ability to craft an offense or about his desperation to land a quarterback if he decides to invest in either of them.
If he doesn't add a quarterback and sticks with Kolb as his starter, he will at least buy himself some time using Kolb's status as his starter as an excuse down the road if things don't work out.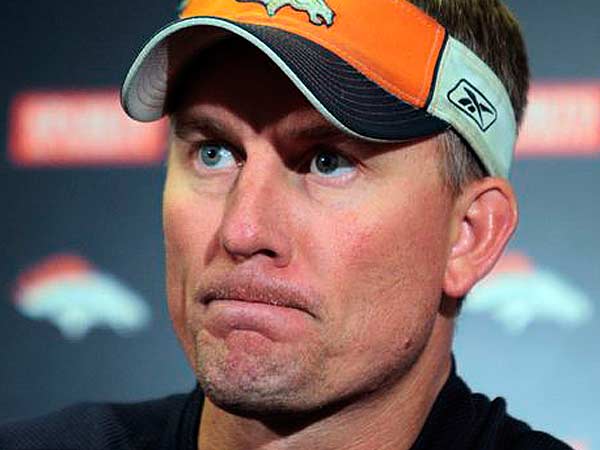 San Diego Chargers, Mike McCoy.
There has been very little talk this off-season about the Chargers moving on from Phillip Rivers, so that idea can be thrown away before the draft even begins. With that in mind, the Chargers must set about building Rivers a viable supporting cast.
Mike McCoy is a young head coach and new offensive coordinator Ken Whisenhunt was fired in Arizona largely because of his insufficient management of his offense. With a poor group of defensive playmakers on the other side of the ball, the Chargers have two directions they could go in.
John Pagano is a good defensive coordinator who can get the best out of bad talent, but he has also proven that he can craft very talented players into very productive presences on the field. Considering that, the Chargers could have a very defensive focus in this draft to try and create a defensive powerhouse to alleviate the pressure on the offense. In that scenario, McCoy and Whisenhunt would be backing themselves to coach up the offensive pieces that are already there and use them to create an offense capable of complementing the defense.
Otherwise, they can invest in an offensive line to keep Philip Rivers upright and try to return him to elite production levels. That would put less pressure on McCoy and Whisenhunt's coaching, but it would also force Pagano to pull together a unit with holes on it to be a competitive team again.
A balanced draft with key pieces arriving on both sides of the ball would be ideal, but that is a lot to ask of new general manager Tom Telesco.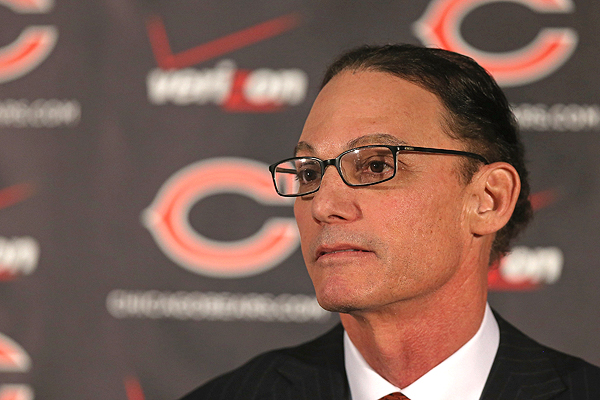 Chicago Bears, Marc Trestman.

There is nothing typical about the Bears' new head coach. Marc Trestman is a 57-year-old head coach who last was with an NFL team in 2004, as an assistant head coach. He is making the move from the Canadian Football League to the NFL without even having to drop his title from head coach to coordinator. He is also taking over a team that finished 10-6 and hadn't had a losing season since 2009.
Trestman is considered a meticulous worker with a Belichickian level of attention to detail. He is by far the most intriguing and vague off-season addition. What is clear is that he is an offensive mind, completely the opposite of the departed Lovie Smith, who prioritizes the quarterback position. Having Jay Cutler on the roster is a blessing considering the situations of the other seven franchises with new teams.

Cutler isn't perfect, but he has compensated for an awful lot in Chicago over the past few years and earned a lot of unfounded hatred for it. Since being traded from the Denver Broncos, Cutler has played behind terrible offensive lines. General Manager Phil Emery and Trestman brought in former New Orleans Saints' offensive line coach Aaron Kromer to be the offensive coordinator. They quickly added Jermon Bushrod, Eben Britton and Matt Slauson to that line, before giving Cutler the tight end he didn't have last year in Martellus Bennett.
Questions about the franchises commitment to building around Cutler are irrelevant, they have already taken steps in that direction, but their short-term aggression will come clear in the draft. The Bears' defense is fantastic and full of playmakers who can still be effective for the coming season. However, that defense is also very old and will need to replace many pieces over the next few years. With the NFC enduring an arms race that doesn't really include the Bears, they need to improve their offense this year if they really want to try and win a championship before retooling that defense.
A defensive direction for the Bears in the draft will say that they aren't desperate to win now, instead considering the long-term, but adding another offensive lineman or two, with potentially another receiver for Cutler, would tell us that Emery brought in Trestman to push the Bears over the hump that has beaten them so often as of late.
You can follow Cian Fahey on twitter @Cianaf