NFL Draft Tracker 2013: Picks, Trades and Updated Analysis
The Kansas City Chiefs, Jacksonville Jaguars, Oakland Raiders, Eric Fisher, Dion Jordan, Luke Joeckel and many many more. We know the characters, the setting and the overall theme of this book, but the branches of the narrative remain locked in the realms of the unknown.
One-by-one each of the branches will be unveiled, bringing with it the drama, excitement, disappointment or maybe even the apathy that develops from following a franchise that repeatedly fails to deliver.
Yet, no matter what franchise you support, the all-encompassing nature of this event will have you glued to every single selection and desperate for what that means for your franchise. You see this isn't like the Super Bowl, not just two teams are involved, so even if your team doesn't have a first round pick, you can still follow what the teams in your division or conference are doing to counteract your team's strengths and take advantage of your team's weaknesses.
In case you can't follow it on television, or you simply can't handle any more Leon Sandcastle 'jokes', this blog will be updated through the night after each pick with details of any picks, trades and analysis of every single move made.
1. Kansas City Chiefs select Eric Fisher, Offensive Tackle.
| | |
| --- | --- |
| STRENGTHS | WEAKNESSES |
| + Hip and back flexibility+ Light feet and athleticism+ Length to mirror and recover easily | – Very inconsistent hand placement- Thin frame, needs to continue adding weight |
It may not be a sexy pick, unless of course you're into 6-7 305 lb offensive linemen, but Fisher will have a very important role to play for Andy Reid's offense. The Chiefs aren't your typical team picking first in the draft. Because of their awful coaching last year, the Chiefs' overwhelming amount of individual talent was ineffective as a team. Reid should be able to get the best out of their playmakers on offense, while any renewed optimism will give their defensive players energy to feed off of, for that reason the idea of taking an offensive tackle shouldn't be off-putting to the fan-base.
Alex Smith had already arrived this off-season to answer the team's quarterback quandary, while Fisher's presence will allow them to trade Branden Albert. Albert is expected to move to the Miami Dolphins for a second round pick that will allow the team to keep Jonathan Martin at right tackle. The Chiefs on the other hand will still need to add a starting right tackle of their own, but this selection at least takes away the prospect of them staring Donald Stephenson at left tackle.
The Chiefs' division doesn't feature any superstar pass-rushers outside of Von Miller from the Denver Broncos, but if the Chiefs are to overtake the Broncos in the AFC West, those matchups could prove to be decisive.
My analysis of Eric Fisher at Football Outsiders bit.ly/15vBFGM

— Matt Waldman (@MattWaldman) April 26, 2013
2. Jacksonville Jaguars select Luke Joeckel, Offensive Tackle.
Overall Strengths
+ Athletic in pass protection with great mirror ability+ Uses hip flexibility to his advantage+ Good effort and plays through the whistle
Overall Weaknesses
– Soft hands, lacks functional upper body strength- Lets his hands get outside the defender's frame too often- Not a dominating drive blocker
Although they already have their long-time starting left tackle in place, Eugene Monroe, the Jaguars decided to give Blaine Gabbert as much pass protection as possible by taking the best player on the board.
Not only is Joeckel the best available player, but he also fits the franchise's long-term blue-print.
3. Miami Dolphins select Dion Jordan, Defensive End.
Trade: Miami Dolphins send the 12th and 42nd overall selections to the Oakland Raiders for the third overall choice.
| | |
| --- | --- |
| STRENGTHS | WEAKNESSES |
| + Tremendous size, 6'6″, 248 pounds, and length | – Must improve his leverage at the point of attack |
| + Blessed with terrific raw athleticism, fluidity and speed | – Durability may be a concern for some teams |
| + Extremely versatile, played OLB at Oregon | – Lacks functional strength, a questionable 4-3 DE fit |
| + Has some untapped potential as a pass-rusher | – Will have to play at a much higher weight in the NFL |
Incredibly, with everyone certain that the Dolphins had traded up to land left tackle Lane Johnson, Jeff Ireland brought in Dion Jordan with the third overall pick. Jordan has the potential to be arguably the best all-around defensive end in the NFL.
Jordan is one of the most versatile players in the NFL. In a division with the New England Patriots, versatility is a priority on defense to try and confuse Tom Brady and match up to their different weapons. This additino will give the defense a legitimate threat across from Cameron Wake, one of the best pass rushers in the league, and it also allows them to move Jared Odrick from defensive end to defensive tackle. This addition improves the Dolphins' defense in a number of ways.
4. Philadelphia Eagles select Lane Johnson, Offensive Tackle.
Overall Strengths
+ Elite athleticism for the position+ Finisher with a nasty temperament+ Lean frame that should be able to carry more weight
Overall Weaknesses
– Thin, developing lower body- Poor pad level and knee-bend at times- Must get stronger and improve overall technique
Chip Kelly will love Johnson's athleticism and he should become an integral part of their offense. Depending on the health of Jason Peters, Johnson could immediately be the starting left tackle in Philadelphia or move across to the right-hand side, allowing Todd Herremans to move inside.
The Eagles addressed most of their defensive needs in free agency and have an abundance of offensive talent at the skill-positions. Adding the last elite offensive tackle in this class means that they are ready to compete right now.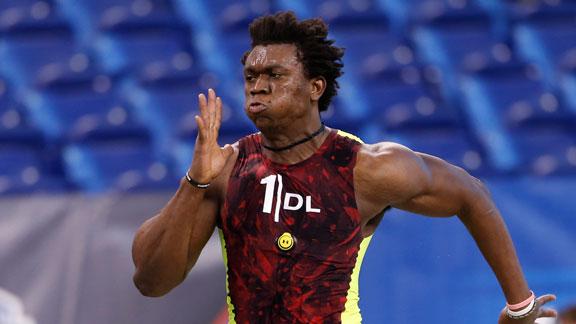 5. Detroit Lions select Ezekiel Ansah, Defensive End
Overall Strengths
+ Has progressed quickly+ Strong, heavy hands+ Incredible athleticism+ Enough flexibility to bend and turn the corner
Overall Weaknesses
– Still inexperienced- Doesn't understand leverage yet- Boom/bust prospect
After losing Gosder Cherilus in free agency and with Jeff Backus retiring, the Lions are facing the prospect of entering next season with two completely new starting offensive tackles. With all three of the potential tackle additions already taken, the Lions are in somewhat of a bind with this choice.
The Lions also lost Cliff Avril this off-season, so they are in desperate need of a defensive end also. Ansah is a physical freak who will need good coaching to continue to develop and reach his potential, but he has the talent and athleticism to be a superstar in this league.
This is the first real worrisome pick in this draft because Ansah needs to develop and is not landing in a great situation. The Lions' culture has allowed Matthew Stafford's developmental discipline to slip and the pressure will be on him from very early on.
6. Cleveland Browns select Barkevious Mingo, Outside Linebacker.
Mingo is a physical freak who will be moved around the Browns' defense like a chess piece. His production at LSU doesn't represent his ability or talent because he was required to play contain. That means he sacrificed his intensity as a pass-rusher to sustain the discipline of the defensive line.
That isn't the type of defense that Ray Horton runs. Horton is one of the most aggressive and creative defensive coordinators in the NFL who loves to move his players around the field to create confusion in the offense. Giving Mingo, Paul Kruger, Jabaal Sheard and Phil Taylor to Horton is like giving explosive chemicals to a mad scientist. The result will be loud, angry and painful.
7. Arizona Cardinals select Jonathan Cooper, Offensive Guard.
Overall Strengths
+ Elite quickness and foot speed+ Explosive out of his stance+ Excellent at tracking defenders on the second level
Overall Weaknesses
– Undersized- Will likely only appeal to zone-blocking teams
Having destroyed their quarterbacks with terrible offensive lines in Arizona as of late, the Cardinals finally made a big splash at a position of need in the draft. Cooper is a very athletic player who will fit well in Arians' offense.
Arians' deep passing-attack is well celebrated, but his need for a pulling guard in the running game was being somewhat overlooked. Cooper has the potential to be a superstar on the next level and could easily become the best pulling guard in the league with his athleticism.
8. St. Louis Rams select Tavon Austin, Wide Receiver.
Rams trade 16th, 46th, 78th and 222nd picks to the Bills for the 8th and 71st selections.

It takes a special talent to go in the top 10 of the NFL draft. It takes an even greater talent to be 170 lbs and have a team trade up to take you in the top 10 of the NFL draft. Tavon Austin is that talent. Austin is a major benefactor of the NFL's new tackling rules, because he should be able to survive going over the middle, something that will be key for his role in St. Louis. Austin will be expected to replace Danny Amendola as he will instantly slot into that slot receiver role.
In replacing Amendola, Austin will need to prove his toughness, durability and consistency, however he should immediately offer them a greater big-play threat that can be used in the backfield as an instant mismatch. For Sam Bradford, this could be a special addition.
9. New York Jets select Dee Milliner, Cornerback.
| | |
| --- | --- |
| STRENGTHS | WEAKNESSES |
| + Ideal size to match up vs. NFL receivers | – Misses too many open field tackles, dropping his head and lunging |
| + Excellent closing speed | – Suffered a torn labrum in his shoulder that requires surgery prior to April's draft |
| + Impressive instincts, displays awareness and recognition skills | – Questionable hands, relatively few interceptions |
| + Capable of holding his own in man or zone, no schematic limitations | |
For a defensive back who is dealing with major injury issues ahead of the beginning of his professional career, things just got even tougher as he is now following in the footsteps of the great Darrelle Revis. After being traded to the Tampa Bay Buccaneers, Revis left a hole across from Antonio Cromartie that Kyle Wilson cannot fill for the long-term.
Milliner is a flexible cornerback with the athleticism to instantly start at this level. His presence will allow the Jets to move Kyle Wilson inside and take some of the pressure off of their seemingly weak pass-rush and safety play.
10. Tennessee Titans select Chance Warmack, Offensive Guard.
| | |
| --- | --- |
| STRENGTHS | WEAKNESSES |
| + Mauling run blocker | – Shorter than you would prefer at just 6'2″ |
| + Wide bodied with extremely long, 34.75″ arms | – Lacks versatility of others, is a guard prospect only |
| + Reliable pass protector | – Skill set does not translate to workout setting |
| + Excellent balance, anchors very well | |
Having already added Andy Levitre in free agency, the Titans brought in a player who is arguably the best overall player coming out this year to create one of the most promising guard tandems in the NFL. Warmack is a superstar talent who can immediately translate to an impact starter for the Titans.
With their personnel, the Titans should be looking to improve their running game this year and focus it around Chris Johnson, with a little Shonn Greene thrown in at the goalline. This pick couldn't be more perfect for that.
The Titans don't have many glaring holes, their real issue is that mediocrity permeates through their roster. Therefore they could have gone in any direction with this pick. Warmack would have been the best player available in the eyes of many evaluators and he certainly fits the philosophy of the franchise. It's hard to argue with this move.
11. San Diego Chargers select DJ Fluker, Offensive Tackle.
Overall Strengths
+ Incredible wingspan and length+ Heavy punch and dominating hand strength+ Powerful, wide base to anchor or drive block+ Extremely high effort player
Overall Weaknesses
– Heavy feet make him susceptible against speed
– Lack of ability to mirror in space
– Lacks flexibility and bend
Philip Rivers' has been plagued with bad protection over the past two seasons. It played a big part in getting Norv Turner fired. Fluker isn't considered an elite left tackle prospect, but he is the best remaining right tackle available who could potentially move to the left side. He could also end up at guard, but landing in San Diego will mean that he has to play at tackle.
He and King Dunlap should be their starters entering the season. Dunlap is a below par left tackle who could be supplanted by Fluker, but he will mostly likely be placed at right tackle and stay there for at least the length of his rookie season.
12. Oakland Raiders select DJ Hayden, Cornerback.
Trading down was the best possible move for the Raiders in the first round. Trading down and finding a starting caliber cornerback could be a very important piece for them in the long-term, even if it means little in the short-term. Like all of the Raiders' picks are likely to be this year, Hayden is a great candidate to be stashed away and developed behind veterans who will carry out the more prominent roles on the field this year.
13. New York Jets select Sheldon Richardson, Defensive Tackle.

| | |
| --- | --- |
| STRENGTHS | WEAKNESSES |
| + Extraordinary athlete for his size | – Does not anchor very well, can be washed out vs. the run |
| + Great motor, plays to the whistle | – Maturity will have to be closely examined |
| + Versatile, capable of handling several roles | – Inconsistent leverage |
| + Makes plays all over the field | |
"An explosive, freakish tackle at 310 pounds."-Mike Mayock on the NFL Network coverage. I love this selection. With Quinton Coples and Muhammed Wilkerson upfront already, this defensive line is going to terrorize the opposition on a regular basis both in the running game and the passing game. The sheer size of the group will also make life easier on their lineabckers when trying to make plays in the backfield.
14. Carolina Panthers select Star Lotulelei, Defensive Tackle.

At times during the evaluation process, Lotulelei was the clear number one prospect. A heart issue at the combine turned out to be nothing, which clears him to go in the first round. Star is a flexible, all-around talent who will dramatically upgrade what the Carolina Panthers have on the interior of their defensive line.
Lotulelei will start alongside Dwan Edwards, with Luke Kuchely, Thomas Davis and Jone Beason behind him. His impact may be greatest in drawing double-teams and freeing up those linebackers to shoot through gaps on the offensive line. He will rarely come off the field and should be an immediate impact player in the NFL.
15. New Orleans Saints select Kenny Vaccaro, Safety.
Vaccaro was always going to be the pick for the Saints if he was available. He offers them an immediate upgrade and an instant fit in Rob Ryan's defense.
16. Buffalo Bills select EJ Manuel, Quarterback.
The transition to more athletic prospects at the quarterback position continues. EJ Manuel becomes the first quarterback off the board despite very few evaluators having him atop their boards entering the draft. Manuel is a Colin Kaepernick, Cam Newton and Robert Griffin III type of talent who will need to be groomed and have an offense crafted around him to succeed at this level.
17. Pittsburgh Steelers select Jarvis Jones, Outside Linebacker.

Overall Strengths

+ Above average first step off line
+ Uses leverage and converts speed to power well
+ Very productive college career
Overall Weaknesses
– Undersized with a slight frame
– Medical/injury concerns
– One-dimensional player who lacks pass rush moves
With outside linebackers, the Pittsburgh Steelers are always in play. Having released James Harrison this off-season, with no clear replacement on the roster, the Steelers were always going to be tempted by an outside linebacker if one fell. Jones has some medical question marks, but obviously the Steelers gave him a clean bill of health to select him at this point. Jones has been compared to current Pittsburgh Steelers' outside linebacker LaMarr Woodley and now will be expected to start across from him either as a rookie or in his second year.
18. San Francisco 49ers select Eric Reid, Safety.
San Francisco sends the 31st and 74th pick to the Dallas Cowboys for the 18th overall selection.
Overall Strengths
+ Intimidating size and great length
+ Enforcer over the middle
+ Range to play multiple coverages
 Overall Weaknesses
– Undisciplined eyes, gets manipulated by quarterbacks
– Leggy out of breaks and tall in his backpedal
– Doesn't make plays on the ball
The 49ers needed a safety to replace the departed Dashon Goldon and Eric Reid fits the bill as a coverage safety and last-line of defense. Reid is landing in the perfect position to succeed because the 49ers have a front seven that will allow him to focus on coverage and spend his time deep trying to read plays as they develop.
19. New York Giants select Justin Pugh, Offensive Guard/Tackle.

The Giants are in need of serious offensive line help and Pugh offers them immediate versatility. He will have to compete for a starting job as a rookie, but his flexibility to play both guard and tackle will make him a very valuable depth piece from day one.
20. Chicago Bears select Kyle Long, Offensive Guard/Tackle.

| | |
| --- | --- |
| Strengths |  Weaknesses |
|  + Raw Athleticism |  – Limited time against High-Level Competition |
|  + Experience at Tackle and Guard |  – Inconsistent Technique |
|  + Nasty Streak |  – Plays too High |
New head coach Marc Trestman has repeatedly talked about the importance of the quarterback position since taking over in Chicago this off-season. Jay Cutler is a very talented quarterback who has had very little support from his offensive line since being traded to the Bears from the Denver Broncos. Adding Kyle Long gives them a starting guard from day one, which when added to new left tackle Jermon Bushrod and new offensive coordinator Aaron Kromer could make for a much better supporting cast in Illinois.
This is a statement pick from Trestman.
21. Cincinnati Bengals select Tyler Eifert, Tight End.
This may be the most surprising pick at this point in the draft. The Bengals were always going to be able to take a top talent over need because of their strong, well-rounded roster, but with Orson Charles behind Jermaine Gresham, Eifert never really entered the conversation. With Andy Dalton struggling to develop in his second year, the Bengals have taken a massive step to surround him with overwhelming talent at the skill positions.
Eifert and Gresham should mean the Bengals become an offense that is based on two-tight end sets, but Marvin Jones and Mohamed Sanu are more than good enough to complement AJ Green. It's going to be very difficult to matchup to this offense next season.
22. Atlanta Falcons select Desmond Trufant, Cornerback.
Atlanta Falcons trade 30th, 92nd and 198th picks to the St. Louis Rams for the 22nd selection.
When watching Desmond Trufant this off-season, my first impressions were: Atlanta Falcons' cornerback. He is a perfect fit in what the Falcons want to do and will immediately replace the skill-set that was lost when Brent Grimes was injured last year, before leaving for the Miami Dolphins this off-season. Trufant is an outstanding cover cornerback and is very aggressive in playing the run.
23. Minnesota Vikings select Sharrif Floyd, Defensive Tackle.
The Vikings need more than one defensive lineman from this draft class and the penetrating Floyd becomes the first. There are some concerns with Floyd that don't show up on the tape, otherwise he wouldn't have fallen as far as he did, but he is landing in a good spot to learn from Jared Allen and Kevin Williams.
24. Indianapolis Colts select Bjoern Werner, Outside Linebacker.

Overall Strengths
+ Snap anticipation and first step
+ Excellent at reducing his surface area and dipping shoulder around the corner
+ Closing speed
Overall Weaknesses
– Motor runs hot and cold
– Lacks great length or athleticism
– Upright playing style
This is one of the more curious picks in the draft so far. Obviously Werner will serve as Robert Mathis' obvious successor, but the Colts invested heavily in free agent Erik Walden this off-season to be a starter across from Mathis this year. Werner will likely be a situational rusher for the Colts early on, so they must have been very high on him.
25. Minnesota Vikings select Xavier Rhodes, Cornerback.

Strengths
+ Excellent height and length for the position
+ Very physical in press-man coverage
+ Adequate speed
+ Good ball skills
Weaknesses
– Can be too physical in coverage at times, making contact far beyond five yards
– Lacks ideal hip flexibility
– Can lose track of his receiver, especially when passing off responsibility in zone coverage
– Appears sluggish at times when not engaged with a receiver downfield
Rhodes is considered an all-around player who had the talent to go much higher than this. He is the best off-man cornerback in the league and will help contribute for the Vikings who have moved on from Antoine Winfield.
26. Green Bay Packers select Datone Jones, Defensive End.

For the second year in a row, the Packers make another addition to their front seven early on. Last year the Packers brought in both Nick Perry and Jerel Worthy. Jones is a highly thought of defensive lineman who has some versatility. He should see plenty of time on the field for the Packers as they look to improve their interior rush and all-around stability in nickel packages.
27. Houston Texans select DeAndre Hopkins, Wide Receiver.
Hopkins is a perfect fit across from Andre Johnson in the Texans' offense. The Texans released Kevin Walter this year and Hopkins is essentially Walter, but dramatically better in all facets of the game. DeAndre Hopkins' Scouting Report.
28. Denver Broncos select Sylvester Williams, Defensive Tackle.

| | |
| --- | --- |
| STRENGTHS | WEAKNESSES |
| + Excellent initial quickness | – Questionable instincts, awareness |
| + Very disruptive penetrator | – Does not change direction very well |
| + Versatile interior force capable of playing one or two-gap | – Struggles to break down and tackle in space |
| + Utilizes a devastating swim move | – Motor seems to run hot and cold |
Many people saw Williams as a potential 3-4 fit, but the Broncos will take him and plug him into the middle of their defensive line looking to spark a pass-rush. Although the expectation was the Broncos would look for an edge-rusher to replace Elvis Dumervil, Williams talent will likely pull them away from that spot.
29. Minnesota Vikings select Cordarrelle Patterson, Wide Receiver.
Minnesota Vikings trade 52nd, 83rd, 102nd, 229th picks to New England Patriots for the 29th overall selection.
| | |
| --- | --- |
| STRENGTHS | WEAKNESSES |
| + Electric with the ball in his hands | – Inconsistent hands, too many drops |
| + Game-breaking speed | – Raw, unrefined route runner |
| + Prototypical size at 6'3", 205 lbs. | – Limited technique as a blocker |
| + Unlimited upside | |
Patterson is supremely talented, but very raw. He offers the Vikings a big-bodied receiver who has the talent to make plays with the ball in his hands and beat defenders deep down the field. He offers Christian Ponder a much needed playmaker after the departure of Percy Harvin.
30. St. Louis Rams select Alec Ogletree, Outside Linebacker.

| | |
| --- | --- |
| STRENGTHS | WEAKNESSES |
| + Elite height/weight/speed combination with long arms and frame to get bigger+ Tools to be a top cover linebacker in the NFL | – Freelancer who needs an inordinate amount of work in key reading and block deconstruction |
Alec Ogletree is one of the most polarizing players in this draft. A former safety who moved to linebacker at Georgia, Ogletree shows next to no linebacker traits as he struggles to get off blocks and cannot read running plays. However, he is a freakish athlete who will offer the Rams a player who can match up to any kind of receiving tight end or big receiver.
31. Dallas Cowboys select Travis Frederick, Center.
After giving Tony Romo a huge contract this off-season, they couldn't continue to ignore his interior pass protection. Frederick will be expected to start from day one and immediately improve the quality of play.
32. Baltimore Ravens select Matt Elam, Safety.
| | |
| --- | --- |
| Strengths | Weaknesses |
| + Versatile, played several roles for the Gators | – Lack of height, at a shade under 5'10", could hurt him |
| + Excellent stopping force, packs a punch | – Not a playmaker in coverage |
| + Strong intangibles, a leader with a good football IQ | – Technique, footwork in man coverage must improve |
| + Good motor, a high intensity player | – Misses too many tackles going for the big hit |
After signing Michael Huff and releasing Bernard Pollard, the Ravens needed that strong safety who could complement Huff's coverage ability. Elam will be free to play in the box and be a little reckless in Baltimore.
You can follow Cian Fahey on twitter @Cianaf