The Interceptable Passes Project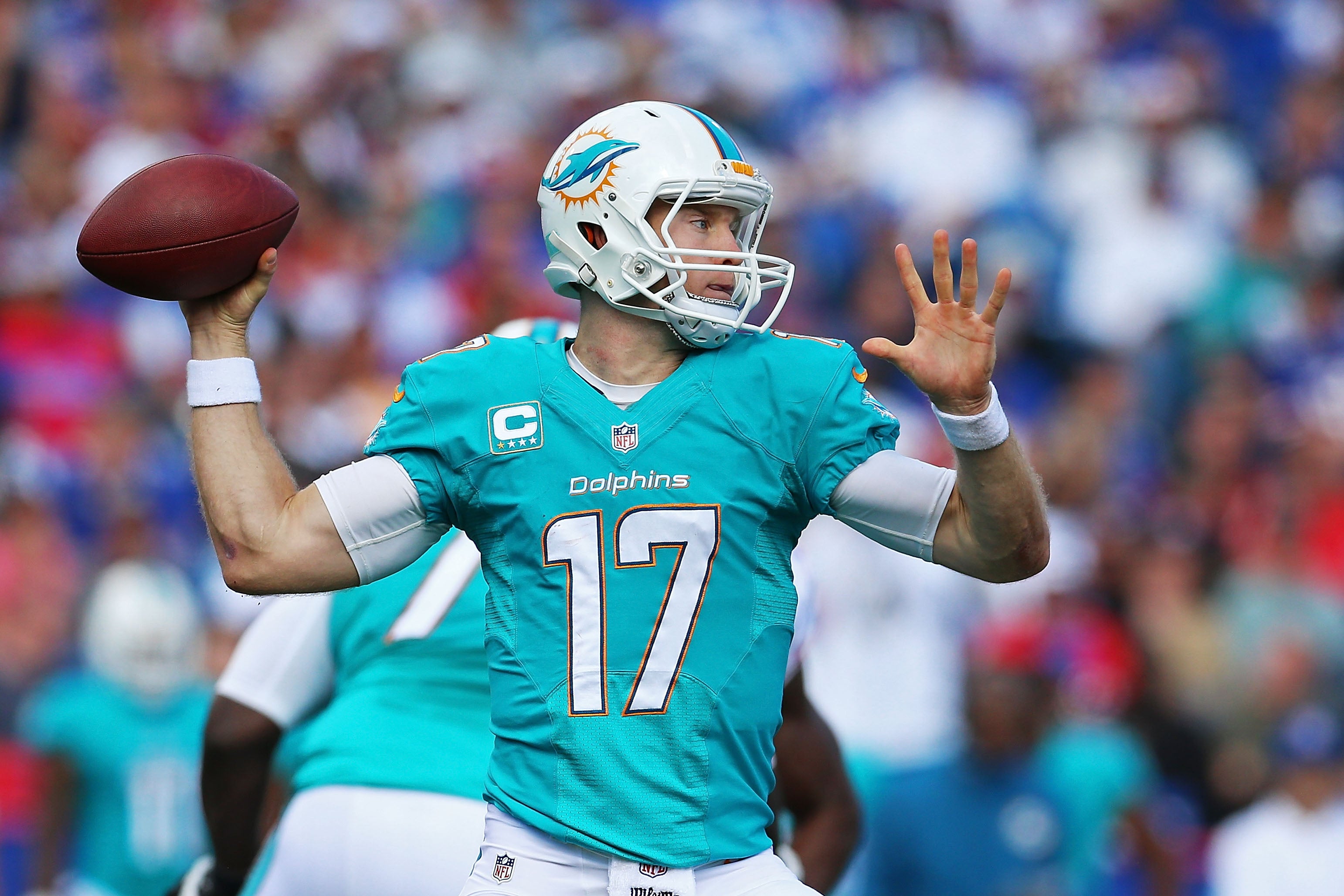 Every offseason, I pay close attention to the number of interceptable passes a quarterback throws. It's something that is an important part of evaluating the individual player but also something that is subjective and not properly tracked anywhere.
To better formalize my own opinions on each individual quarterback, I decided to note every instance when a quarterback threw an interceptable pass in 2014 and chart them for public consumption.
31 quarterbacks were covered, with Matthew Stafford being the only absent starter. He is absent because the Gamepass tape for Lions games doesn't work properly. Sam Bradford was used instead of Austin Davis or Shaun Hill, so his 2013 season is included with the 2014 seasons for every other quarterback.
Raw Overall Numbers
Most of this chart is self explanatory. The second column tallies the total number of interceptable passes a quarterback threw. Only interceptable passes that were the quarterback's fault were included. The third column tracks the number of official interceptions a quarterback had that weren't his fault.
—Alex Smith, 58 Attempts Per Interceptable Pass—
The natural response to seeing Alex Smith atop this list with one interception per 58 attempts is one of celebration for Chiefs fans. However, it shouldn't be. Smith's number is too high and severely distorted by the offense he plays in. It reflect his excessively cautious approach that results in a quarterback who is scared to make throws to open receivers.
Of Smith's 464 attempts last year, 140 were either screens or throwaways. His fear was the primary reason for his receivers not scoring a touchdown in 16 games.
Celebrating a quarterback for not turning the ball over when he is handicapping your offense to do it doesn't make any sense. Smith was a hinderance to his team in 2014 and he lost more games than he won with his approach. Even if most won't acknowledge that because they over-emphasize the importance of avoiding turnovers.
—Tony Romo, 40.4 Attempts Per Interceptable Pass—
Romo has always been forced to live with an unearned reputation for turning the football over. Interceptions in big moments have played a major role in that while his teammates more often than not contributed to those more than the quarterback did. With the best offensive line in the league, a great running game and receivers who knew where to be in 2014, Romo flourished.
He was able to rely more on his teammates, but he still played the game with unbelievable patience in the pocket while still being aggressive and creative. Watching Romo play with such creativity while still taking great care of the football was simply phenomenal.
What makes his statistics even more impressive, five of his interceptions came in games where he clearly wasn't close to 100 percent healthy. If he had been fully healthy for the full year, it's fair to think he may have had an outlandishly impressive ratio of attempts per interceptable pass.
—Sam Bradford, 37.4 Attempts Per Interceptable Pass—
Sam Bradford is going to be the greatest test case for the importance of situation. In St. Louis, he played cautious but impressive football with a supporting cast that was consistently overwhelmed by the opposition. Teams could rush just four after him to get quick pressure, while the Rams' receivers proved incapable of consistently creating separation or winning at the catch point in crowds.
He is a very smart quarterback who was forced to be cautious by situation. Bradford deserves a lot of credit for what he did during the 2013 season.
—Aaron Rodgers, 34.7 Attempts Per Interceptable Pass—
Probably the most impressive quarterbacking season you'll ever come across. Rodgers struggled(relative to his typical play) to begin the season, but after Week 3 he became a cyborg who could carry the offense, throw into tight windows, make plays under pressure and take care of the football.
—Teddy Bridgewater, 33.5 Attempts Per Interceptable Pass—
It was an incredible rookie season for Teddy Bridgewater. He played in an offense that asked him to make reads downfield while mitigating pressure in the pocket, with a supporting cast of underperforming players. Most significantly, Bridgewater got no help from his offensive line in pass protection.
Despite everything falling down around him, Bridgewater's poise and intelligence shone through. His accuracy was his biggest issue, highlighted by eight of his interceptable passes being primarily a result of poor accuracy.
Bridgewater was slightly too cautious, but for a rookie in a tough situation it wasn't a major problem.
—Matt Ryan, 33.1 Attempts Per Interceptable Pass—
Much of the focus on Matt Ryan as a quarterback is on his receiving options, but his offensive line has never truly been above average. In 2014, it wasn't even close to average. Ryan made his teammates look much better than they were by getting rid of the ball quickly and diagnosing the defense with ease on a consistent basis.
—Ben Roethlisberger, 32.7 Attempts Per Interceptable Pass—
The Ben Roethlisberger and Todd Haley combination has paid off for the Steelers. Roethlisberger has always taken care of the ball relatively well, but now he is performing from the pocket in a more structured way than ever before. His decision making is outstanding with his only significant issues coming with his downfield accuracy.
—Eli Manning, 31.6 Attempts Per Interceptable Pass—
Eli Manning was one of the best quarterbacks in the NFL last year, but he gets very little credit for it. Manning functioned behind a limited offensive line without a great running game to rely on. His decision making and accuracy were consistently outstanding, except for two games when he seemed out of sorts — against the San Francisco 49ers and Philadelphia Eagles.
One of the more notable aspects of Manning's play was his aggressiveness in getting the ball to Odell Beckham. On a couple of occasions, he threw interceptable passes because he locked in on Beckham and forced the ball to him.
This also resulted in big plays at times, but it's not a good thing on the whole.
—Peyton Manning, 29.2 Attempts Per Interceptable Pass—
Manning's play notably dropped off during the second half of the season. He was still a very good quarterback, but injuries sapped his ability to throw with full velocity and as such his accuracy suffered.
—Ryan Tannehill, 28.1 Attempts Per Interceptable Pass—
In Bill Lazor and Branden Albert, Ryan Tannehill finally got the comfort and security he needed to be effective in 2014. Lazor's offense is perfectly suited to his skill set, allowing him to use his arm talent and intelligence to consistently make plays to short and intermediate routes.
The quarterback only had one significantly problematic outing all year, a Week 6 game against the Green Bay Packers.
—Russell Wilson, 27.6 Attempts Per Interceptable Pass—
Wilson's numbers aren't really valuable. He struggled during the 2014 season as a passer because he was way too hesitant to throw downfield. That meant that he avoided turnovers, but he also missed opportunities for important yardage.
—Andrew Luck, 26.3 Attempts Per Interceptable Pass—
It was a phenomenal season for Andrew Luck. He was once again able to elevate a subpar supporting cast and turn it into one of the most dangerous units in the NFL. Luck's biggest issue right now isn't how many interceptable passes he throws, but rather how bad some of them are. He needs to avoid making such poor mistakes such as the pass he threw directly to Darrelle Revis in the AFC Championship Game.
—Phillip Rivers, 25.9 Attempts Per Interceptable Pass—
In 2013, Rivers played to an MVP level. In 2014, he started off playing at an MVP level. The peak of his season came without two outstanding displays against the Seattle Seahawks and Buffalo Bills. However, after that point of the season his age began to show. While playing in an offense that gave him very little help, Rivers found himself forcing throws and making bad decisions too often to be ranked with the best players in the league.
Rivers needs better offensive line play and a more balanced offense to be fully effective in 2015.
—Carson Palmer, 24.9 Attempts Per Interceptable Pass—
Bruce Arians and Carson Palmer are perfect for each other. Palmer has the big arm and deep accuracy to push the ball down the field over and over again, while still being brave enough to deliver the ball accurately in unclean pockets. Palmer's interceptable passes ratio wasn't helped by the system he played in, but it was still above average overall.
—Robert Griffin III, 23.8 Attempts Per Interceptable Pass—
There's no argument that can be made in support of Robert Griffin III being a good quarterback last year, but he wasn't anywhere near as bad as many will have you believe. While adjusting to a new offense that asked him to play in such a way that he never had before, he did relatively well with his decision-making.
Part of that was a reluctance to let the ball go, but on the whole this should be considered a positive for Griffin moving forward.
—Jay Cutler, 23.4 Attempts Per Interceptable Pass—
Jay Cutler doesn't throw a huge number of interceptable passes, but the ones he does throw are typically bad ones that make them more likely to be caught. While he had his own issues, Cutler can also point to his huge number of interceptions that were created by his teammates. Cutler got very little help from Marc Trestman, his offensive line or his receivers last year.
—Tom Brady, 23.1 Attempts Per Interceptable Pass—
Tom Brady's regular season saw him make way too many interceptable passes. He could easily have had nine interceptions over the first three weeks of the year, but even after his much publicized slump until Week 4 he struggled with giving the opponent opportunities to catch the ball.
For as bad as he was early in the year, he finished the season very well. Brady was outstanding in the playoffs in terms of looking after the ball, even with his three interceptable passes in the Super Bowl.
—Drew Brees, 22 Attempts Per Interceptable Pass—
It appears that Drew Brees has declined somewhat. He has always been a quarterback who has given the opposition opportunities to take possession away from his offense, but he had a tendency to do it at the worst times in 2015. Brees will point to his supporting cast and blame them, but his supporting cast wasn't bad enough to justify the rookie-type errors he made on a regular basis.
He needs to adapt his game in 2015 because his deep ball has become a major issue. Brees to often tried to push the ball downfield in a way that he is no longer capable of.
—Colin Kaepernick, 21.7 Attempts Per Interceptable Pass—
Asking Colin Kaepernick to carry more of the offense in 2014 didn't go well for the 49ers. He wasn't consistently throwing the ball to the other team, but that is largely because he was running the offense so poorly and his accuracy was so bad that he was often putting the ball in spots where nobody could catch it.
—Geno Smith, 21.6 Attempts Per Interceptable Pass—
For the second year in a row, Geno Smith's bad was so bad that it overshadowed his sustained strong play over the second half of the season. Smith did enough to justify his starting spot in 2015, but he needs to avoid the depths that he reached last year against the Chicago Bears and the Buffalo Bills.
—Joe Flacco, 20.3 Attempts Per Interceptable Pass—
It's become an accepted idea that Joe Flacco is an inconsistent regular season quarterback but a strong playoff quarterback. Last season, neither part of that was true. Despite playing with a strong running game, behind one of the best offensive lines in the NFL in a system that made his reads easier, Flacco repeatedly made poor decisions and inaccurate throws.
His four interceptable passes against the New England Patriots in the playoffs marred his huge production in that game.
—Nick Foles, 18.3 Attempts Per Interceptable Pass—
Chip Kelly was happy to trade Nick Foles despite his statistical production because of how poorly the quarterback played independent of his statistics. In a very quarterback-friendly offense, Foles repeatedly made bad decisions and floated passes dangerously close to the opposition.
Injury likely saved Foles from falling even further down this list.
—Cam Newton, 17.9 Attempts Per Interceptable Pass—
The development of Cam Newton has been very impressive, but it's not reflected by the raw numbers from this project. Much like with Alex Smith, this number alone is very misleading. Newton played in an awful situation last year while dealing with different injuries. He was still too inconsistent with his accuracy, but he is not a reckless quarterback.
It won't help his perception that his worst game of the season came in the playoffs against the Seattle Seahawks. The Seahawks accounted for nine of his 25 total interceptable passes.
—Zach Mettenberger, 17.9 Attempts Per Interceptable Pass—
When you're so inaccurate that you struggle to find your teammates downfield, it's hard to hit the defensive backs covering them.
—Ryan Fitzpatrick, 17.3 Attempts Per Interceptable Pass—
Fitzpatrick was benched by the Texans for Ryan Mallett and he deserved to be. The Harvard graduate continues to be one of the worst decision makers in the NFL.
—Andy Dalton, 17.2 Attempts Per Interceptable Pass—
17.2 is a bad number on its own. Andy Dalton's 17.2 is much, much worse. The Cincinnati Bengals and Hue Jackson did everything they possibly could to protect Dalton last year from focusing on the running game, relying on screens and encouraging quick, short throws. Yet, despite all of those efforts with strong play from his supporting cast, Dalton continued to give defensive backs opportunities to make plays on the ball.
An inability to throw deep and an inability to read coverages has made Dalton a subpar starter in the NFL.
—Derek Carr, 17.1 Attempts Per Interceptable Pass—
Like Dalton, the Raiders did as much as they possibly could to protect Derek Carr and keep the pressure off of him, but he pushed through to continue throwing interceptable passes. Blake Bortles got more scrutiny because more of his throws were caught by the opposition, but Carr was just as reckless with the football.
—Josh McCown, 15.6 Attempts Per Interceptable Pass—
Even during that prolific stretch for the Chicago Bears in 2013, McCown was consistently making bad decisions. He continued that for the Tampa Bay Buccaneers last season.
—Blake Bortles, 15.3 Attempts Per Interceptable Pass—
Elongated mechanics, awful accuracy and a slow decision making process made for an awful rookie season in Jacksonville. Blake Bortles has a long way to go in his development to become a viable NFL starter.
—EJ Manuel, 13.1 Attempts Per Interceptable Pass—
It's hard to sell EJ Manuel's stock based on the fact that he didn't turn the ball over. His passes may not have been caught regularly, but he definitely throw too many interceptable balls. Manuel struggles to read coverages and mitigate pressure in the pocket while he also locks onto receivers, but most notable is his inability to adjust the velocity of his throws. Everything is either 1 MPH or 100 MPH.
—Brian Hoyer, 12.2 Attempts Per Interceptable Pass—
Kyle Shanahan's offense is exceptionally good at creating easy throws for its quarterback. Yet, despite that, Brian Hoyer managed to repeatedly make bad decisions and completely miss wide open receivers. He can't blame his supporting cast for landing him at the bottom of this list.