J.J. Watt, Reworked Defense Offer Houston Texans Hope in NFL Playoffs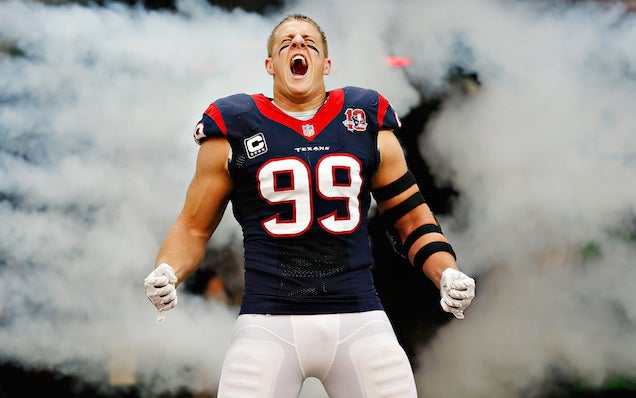 In truth, it wasn't an impressive regular season from the Houston Texans.
The Texans have made the playoffs, they even won their division, but they did so with a 9-7 record in what once again appears to be the worst division in football. For a long time it didn't look like the Texans would even manage to win nine games though.
For a long time, it looked like Bill O'Brien was going to be responsible for a team that was going to compete for a top-five pick in the draft.
O'Brien's Texans began the season with a 2-5 record. Brian Hoyer had been named the starter to enter the season after a close competition with Ryan Mallett. Hoyer's tenure as the starter lasted just 34 attempts as he was benched before Week 2.
In Week 2, O'Brien started Mallett and asked him to throw the ball 58 times against the Carolina Panthers defense. 58 times!
Mallet eventually found his way back to the bench after being benched in Week 4 but starting in Week 5 only to be benched again, this time for good. Mallett was eventually released for off-field issues. O'Brien had badly managed his quarterback situation and it clearly had adverse affects on his offense as a whole.
The offense wasn't the biggest problem though.
Nobody in Houston expected the offense to be a great unit. Even the most optimistic Brian Hoyer supporter will have understood his limitations. The Texans expected to be a dominant defensive team that relied on their running game to further take the pressure off of the quarterback. Arian Foster's absence through injury hurt the running game, while the defense was just a disaster.
Romeo Crennel appeared to have a lot of talented pieces on his defense entering the season. J.J. Watt was arguably the best defender in the league, while former first overall pick Jadeveon Clowney was soon ready to be his complement. Rahim Moore was brought in to be the reliable deep safety and Kevin Johnson was added to boost cornerback depth outside.
Vince Wilfork wasn't the Vince Wilfork of five years ago, but he was still expected to add quality upfront.
Despite lofty expectations, the Texans were one of the worst defenses in the NFL over the first half of the season. By Week 7, the Texans had given up a staggering 199 points. That was 28.4 points per game. That average was lowered by a Week 3 game against Jameis Winston's Tampa Bay Buccaneers who scored just nine points.
The Texans beat the Buccaneers and Jacksonville Jaguars over the first seven weeks of the season, but lost to the Atlanta Falcons and Miami Dolphins while giving up more than 40 points. The Falcons encroached on 50 points with 48 in four quarters while the Dolphins scored more points, 44, against the Texans than they have at any other point this year.
On six other occasions, the Dolphins had been held to 14 or fewer points by opponents.
It wasn't just that the Texans were giving up points. They were giving up points to unspectacular offenses while providing very little resistance. Crennel's defense lacked any kind of assignment discipline, something that was highlighted over and over by teams that used misdirection or play action, while being very rigid in their approach.
Everything changed after Week 7.
After Week 7, Crennel showed more creativity and his players showed more discipline. Free agent safety Rahim Moore was benched, replaced by an unspectacular but disciplined player in Andre Hal. Moore was actually benched after Week 6 before being made inactive after Week 7. Hal's arrival in the starting role coincided with a greater intensity and focus on assignments from the secondary.
In the front seven, Jadeveon Clowney's impact wasn't being felt on the stat sheet but it was being felt on the field. Clowney has proved to be extremely disruptive this season, regularly just missing out on sacks. He has mirrored the play of Khalil Mack from his rookie season. Whitney Mercilus also began to show more quality as a pass rusher the more he played this year.
Part of Mercilus' improvement was how the Texans were using Watt.
Until that point in the season, Watt had primarily lined up at left defensive end. Watt is one of the few players in the league who opposing defenses will actually gameplan for. He is so disruptive that teams will alter their whole approach to prevent him from taking over games. When they always know where he is going to be, it's much easier to double team him in pass protection or design run plays to negate him.
Watt still had six sacks over the first seven games of the season, but his impact in general was very low for a player of his talent.
From Week 8 onwards, Watt compiled 11.5 sacks in nine games. His impact was huge on the improvement of the defense as a whole because it became less predictable. He was lining up in different spots to break the design of plays more consistently. Since Week 8, the Texans defense has been one of the best units in the league.
After giving up 28.4 points per game over the first seven weeks, the Texans have given up just 12.7 points per game since. That is a full 15..7 fewer points per game.
It's not that the schedule has turned dramatically in their favor. It's not even that the coaching staff suddenly became brilliant and found creative ways to mask their talent. Instead, the difference was that the coaching staff went from being completely incompetent to competent. With the talent on the Texans defense, that was enough to make a huge difference.
Watt's renewed impact alone was huge, as was the case in Week 17 when the defensive lineman had eight tackles, three sacks, two pass deflections, a forced fumble and a fumble recovery.
Watt's first sack came just three plays into the game. He had lined up at left defensive end on first down to stop a short running play, before lining up at right defensive end on the second drive when Blake Bortles' pass was tipped by a teammate. On third down, he moved back to the left side where he was left in a one-on-one situation with the Jaguars right tackle.
Using his athleticism and balance, Watt is able to get beneath Jaguars right tackle Sam Young and quickly drive through him to get to the quarterback.
For his second sack of the game, late in the third quarter, Watt lined up against left tackle Luke Joeckel and crashed into Bortles in the pocket once again. Joeckel couldn't get as low as Watt when he dipped beneath the left tackle.
With his strength and balance, Watt could repel the offensive tackle's attempts to overpower him and accelerate towards Bortles. He hit Bortles from the blindside but the quarterback reacted to his presence before he touched him.
For his final sack, a fourth quarter forced fumble that the Texans recovered deep in their own territory, Watt once again beat Joeckel from the right side. This time he used his hands to swat Joeckel aside before continuing through him to the quarterback.
Watt's strength and balance stood out once again as Joeckel couldn't make any impact on his progress into the pocket.
Even though the NFL is extremely unpredictable, especially when it comes to a handful of games, it's hard to imagine the Texans going on a run to win the Super Bowl. They do have a legitimate shot at advancing past the first round though. They will face the Kansas City Chiefs at home next week.
The Chiefs have had a similar season to the Texans. While the Texans have won seven of their last nine games, the Chiefs have won 10 in a row. Both teams began the season poorly, combining for a 3-9 record through six weeks. One of those victories was for the Chiefs over the Texans in Week 1.
Week 1 was an awful game for the Texans. Not only did Alex Smith throw for 243 yards and three touchdowns without an interception, he did so incredibly easily.
The Texans looked like they hadn't gameplanned for the Chiefs offense at all. Andy Reid is a big proponent of play action and misdirection. Crennel's defense reacted to the misdireciton and motion as if it was a completely new phenomena. Something they had no chance of comprehending. They left receivers running wide open downfield while not getting pressure on Smith in the pocket.
Watt had two sacks in that game, but they were the only sacks the Texans had.
Smith has been sacked 45 times this year, second most of any quarterback in the league. He was only sacked twice over the past two games though. Watt obviously has the beating of the Chiefs offensive linemen, but he will need his teammates to show better discipline and awareness than they did in Week 1 for him to have time to get to the quarterback.
Neither the Texans or Chiefs were expected to be here. Both teams will feel confident that they can win this game. If the Texans defense plays to its potential, they should be able to take advantage of their home-field advantage.