NFL Free Agency 2016: George Iloka is a Safety Built for the Modern Game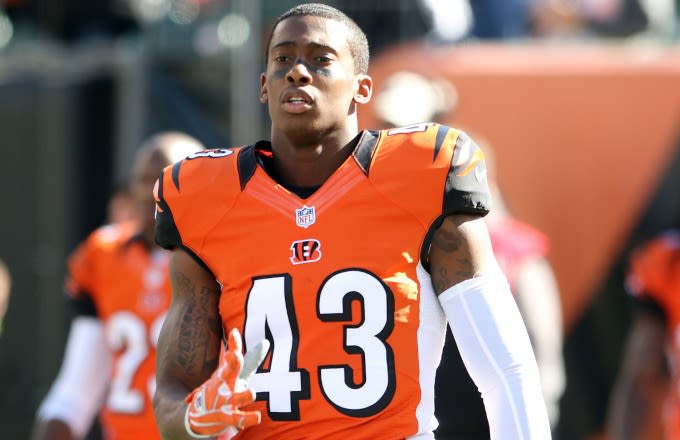 Troy Polamalu will be a hall of famer one day. Polamalu, the 2010 Defensive Player of the Year, was one of the best players on a Pittsburgh Steelers defense that finished first in points allowed or yards allowed in five separate seasons. Dick LeBeau watched over that defense and he was the one who put Polamalu in positions to succeed every single year.
A key to Polamalu's success was the play of Ryan Clark. Clark was Polamalu's free safety. He cleaned up everything from a deep position while Polamalu wreaked havoc underneath.
Polamalu was in his prime less than a decade ago, yet in NFL terms it feels like a different era. Over the latter stages of his career, Polamalu struggled to make an impact on games because his athleticism began to decline slightly but the league also became better at exposing him. As a strong safety, Polamalu was never great in space. He excelled in tighter areas where he could take risks in coverage and still recover while using his physicality to take on blocks and take down running backs.
It's hard to point to any safety who is thriving in the league today who is like Polamalu, Tyrann Mathieu is the closest but even he is a very different type of player. Part of that is how talented Polamalu was, he was a truly special player. A greater part is how the league is changing. The innovation of NFL offenses over the past decade has put a huge amount of stress on safeties that wasn't there previously.
NFL offenses are stretching defenses horizontally and vertically now. Passing games are not just more efficient than ever, they are more creative and better at targeting specific weaknesses of opponents because of the options they give themselves. The emergence of the tight end position and the growth in athleticism at the wide receiver positions has allowed teams to use more alignments and call different play types with each personnel package.
When Polamalu was at his best, he acted within the structure of the Steelers defense. He had a skill set that the Steelers could set up to maximize his impact on the game.
Defensive coordinators can't do that anymore. Safeties are now dictated to by the offense. They are forced to be reactive rather than proactive, because offenses are better equipped to attack their weaknesses. Playing in greater space has meant that teams can no longer carry strong safeties. The distinction between strong and free safeties has blurred because valuable safeties have to be able to show resilience against the run and range in coverage. If they can't do one or the other, the offense will repeatedly attack them to exploit that whereas they wouldn't have in the past.
We've seen the value of star safeties since Polamalu was at his peak. The Seattle Seahawks are one of the few teams that can still function with a clearly defined strong safety and free safety. They may be the only team that excels with that structure.
Kam Chancellor and Earl Thomas are two of the most talented players in the league, playing on a defense that is unproportionally stocked with talent, so they are the exception rather than the rule.
Devin McCourty is another exceptional safety. McCourty is closer to Thomas than Chancellor, but his exceptional range combined with good ball skills, effective tackling and discipline in his movement makes him a well-rounded player. McCourty could have taken advantage of the free agent market last year but chose to sign a team-friendly deal with the New England Patriots.
That was a missed opportunity for those of us on the outside who were eager to see just how valuable a safety in the NFL could be now. Because the position has become so difficult to execute competently, it's extremely hard to find quality starters now. Adding one of the best players in the league at the position, someone who is still close to his physical prime, is an opportunity that won't come around very often.
Fortunately, it's happening again this offseason.
George Iloka hasn't established himself to the extent that McCourty had this time last season. He has been a quality starter for a while now, having started 44 games in four seasons with the Cincinnati Bengals. Iloka is well on his way to becoming one of the best safeties in the league and he's about to turn just 26 years of age.
If you just looked at Iloka and only knew that he was a safety, you would immediately presume that he is a strong safety. He is officially listed at 6'4″ and 225 lbs. Though he has similar height to Kam Chancellor, he lacks the weight and strength that Chancellor shows off.
Chancellor consistently explodes through tight ends, and the odd offensive tackle, while punishing ball carriers at the point of contact. Iloka isn't as intimidating physically as Chancellor, but he benefits from his lighter frame to be a more versatile player all-around.
If you want Iloka to be a box safety and act as an extra run defender all game, he can do it. He'll do it very well. The Bengals didn't want him to be that though. The Bengals didn't treat him as their strong safety.
Bengals defensive coordinator Paul Guenther had the luxury of relying on two versatile safeties last year. He didn't force either player into a specific role, instead letting both play from deep or line up near the line of scrimmage.
While sharing responsibilities evenly, Iloka was able to show off every area of his skill set.
Iloka will miss tackles. Any safety who plays in space will. He doesn't have a chronic issue though. Despite his size, he shows off quick, balanced feet that allow him to make quick adjustments in space. He has a tendency to lunge into his tackles, as can be seen in the above gif, but can get away with it more often than not because of his length.
In the above play, we can see how disciplined Iloka is in his assignment. He doesn't panic and sprint to close on the receiver in the flat as soon as the ball is snapped. He closes a few steps before re-estabishing his feet.
From there, Iloka waits until he is certain the ball is being thrown, relying on his athleticism in space to close on the ball without having to be overly aggressive. 
In the same game against the Houston Texans, Iloka was put in position to clean up a mistake from cornerback Adam Jones in the slot. Jones bought the screen underneath, leaving Nate Washington running free down the seam.
Iloka wasn't immediately in position to tackle the receiver because he was playing his original assignment. Had Jones stayed disciplined, Iloka would have been in position to split both routes from his deep position.
Because Jones didn't stick to his assignment, Iloka had to show quick reactions and quick feet to turn and close on Washington. He comfortably opened his hips and closed on the receiver. The safety's technique at the point of the tackle was questionable once again. He almost slid off of the tackle, but relied on his strength and length to force the receiver to the ground.
From the same game, Iloka showed off his willingness to be aggressive reading running plays. No matter what position you play in the NFL, you need to find a balance between aggression and caution. Controlled aggression is invaluable, especially in run defense.
Iloka rotates down into a strong safety position before the snap. He appeared to be settling down to cover the tight end who motioned across the field.
That tight end immediately engaged in a block, something that Iloka recognized quickly. Because his assignment wasn't running a route downfield and Iloka understood it, he could be proactive in finding the football. He burst past the only player who could have accounted for him before shuffling his feet to make sure he didn't overrun his gap.
Even though Iloka didn't take on a block or punish the running back, he was able to drag the ball carrier down with relative ease for a loss.
During the 2014 season, Iloka had 10 pass deflections and three interceptions in 16 games. He wasn't making the same eye-catching plays in 2015, but the foundation of his game was still there. He was still carrying out his role in the defense with consistently while executing a variety of different assignments. He did play a role in two turnovers against the St. Louis Rams that highlighted that versatility.
On this play, Iloka was lined up as the left-sided safety in quarters coverage. He was isolated against tight end Jared Cook after he ran down the seam and bent his route infield. Iloka had established outside so needed to show quick feet so he could shift his momentum infield.
Nick Foles' pass was late and off target, which made Iloka's job easier but he had closed on the tight end very quickly regardless.
Although the delayed pass from Foles made it tougher for Cook to catch the ball, it did put Iloka in a somewhat perilous position. His momentum was pulling him into the tight end. He could very easily have run through or bumped into Cook, causing an obvious pass interference penalty. Iloka showed off impressive body control to stop his momentum while locating the ball away from the tight end's body to knock it away.
Iloka's reading of the game, movement skills and ability to locate the ball with his length allowed Reggie Nelson to dive underneath the pass for the turnover.
For his only interception of the season, Iloka lined up as the single-high safety behind a five-man blitz. Iloka stayed in the middle of the field, backpedalling while Foles dropped back in the pocket. He showed patience while watching Foles' eyes. He didn't let Foles draw him out of position before he was certain that the quarterback was committed to throwing left.
Adam Jones had bought Kenny Britt's double move on that side of the field. The receiver was running wide open so Iloka had to cut him off.
Foles missed the throw, the ball floated to Iloka away from the sideline. However, if you presume that Foles threw an accurate pass with typical velocity of an average starter, Iloka would have had an opportunity to clean up Jones' mistake. He wouldn't have been able to prevent the reception, but could have prevented the touchdown.
Signing Iloka and expecting him to be a turnover machine or a Troy Polamalu type of disruptive force in the role of a strong safety would be a mistake. Signing him and recognizing his value as a versatile, consistent starter would improve the quality of most secondaries in the league.
Mike Zimmer's Minnesota Vikings are the obvious favorite to land him. Zimmer was the Bengals defensive coordinator when the team drafted him and the Vikings currently need a safety to pair with Harrison Smith. Smith is a versatile defensive back like Reggie Nelson, each player would complement the other perfectly.
Surpassed Zimmer's Vikings, there are a plethora of teams with a safety need and big cap space to spend. The Oakland Raiders, New York Giants and Tennessee Titans stand out in particular.
Iloka is about to turn 26. He's going to give his prime years to the team that signs him to his next contract. During those years, he will have a legitimate shot at being one of the very best safeties in the NFL. That's quite the achievement nowadays.