C.J. Prosise Can Be the NFL's Next Arian Foster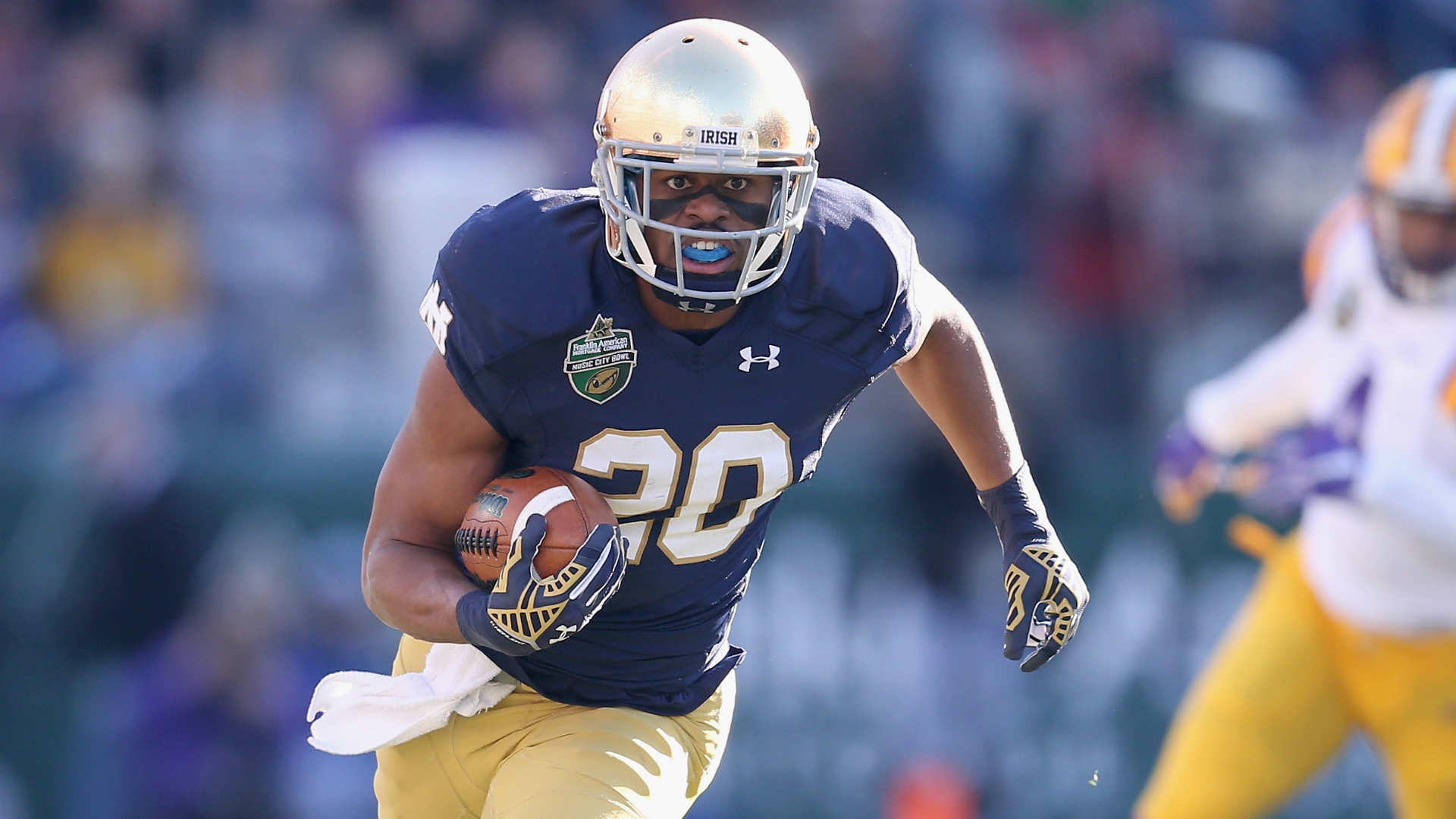 During his prime, there were few players more fun to watch than Arian Foster.
Foster was one of a handful of backs who truly transcended his position. He shared a standard with Marshawn Lynch, Adrian Peterson and Jamaal Charles. A standard that Le'Veon Bell and Todd Gurley appear to have picked up since. Foster didn't have any weaknesses. Most of what he did he did at an above-average level. His truly great trait was his smoothness.
There was no such thing as a hard cut with Foster. He could change direction effortlessly, flipping his hips and feet without having to extend his leg away from his body. Foster even planted his feet differently to most other backs. He baited defenders by keeping his body perfectly straight until the very last moment, then twisting his planting foot so that he could change direction without pushing it away from his body.
It legitimately looked like Foster was gliding when he moved. His feet were so light and his balance was so natural that he could change direction without ever having to slow down. When he did slow down, he did so to expose the defense, re-accelerating with ease once he had created the running lane he was looking to create.
Arguing for another back being better than Foster is more than fair. His durability issues take away from his case there and Adrian Peterson is still Adrian Peterson after all. Yet nobody could argue that they transitioned in space more comfortably than Foster.
There hasn't been anyone like him since he established himself during his second season. There have been fast backs. There have been big backs. There have been elusive backs. There have been fast, big, elusive backs, but nobody with his smoothness.
Until now.
C.J. Prosise has that Foster' athleticism and natural balance. Prosise isn't the top back in this class, Ezekiel Elliott is. He's not even widely considered a contender for the second spot, Derrick Henry, Kenneth Dixon and Devontae Booker are competing for that mantle. Prosise is more likely to be a considering after that group, a late second or third-round pick. Maybe even a fourth rounder depending on how the NFL views him.
It's not just about Prosise's skill set, he has a limited amount of tape available as a running back. Prosise played wide receiver for a few seasons before moving to running back ahead of the 2015 season. He didn't enter the year as the starter, taking over because of injury after the season had begun. After a few impressive games, he suffered an injury of his own and was hampered for the remainder of the year.
A lack of longevity at the position makes Prosise a raw running back, but being raw is only a minor issue when framed by his natural ability.
On this outside run, Prosise is unopposed around the corner before being met by a safety downfield. He waits until the last moment to shuffle his feet so he can swerve past the tackle attempt without losing speed. Having surpassed that defender in space, he has to hand-off a tackle attempt from a defender disengaging from a block. Once again, he does that without losing speed, showing off impressive strength.
There is only one player who can stop Prosise from getting to the endzone. The running back plants his outside foot and uses his right arm to fend the tackler off while extending the ball with his left hand to break the plane.
Even though he's not an experienced back, Prosise shows off a comfort setting up his blocks. Because of his extremely quick feet, he can comfortably shift his weight and accelerate afterwards. On this play, he is able to shift sideways away fro the penetrating linebacker before reversing his momentum turn turn away from the defender being blocked by #78. Having found this clean running lane to the second level, Prosise is then able to make the safety fall to the ground by jump-cutting back in the opposite direction again.
From there he shows off the strength and power to stay upright before being pushed over the first-down line to move the chains.
---
Making adjustments against penetration is critical for any NFL running back. There isn't a back in the league who can expect to have plays perfectly blocked for him even 60 percent of the time. There will always be creativity/patience involved. It's why Melvin Gordon struggled so much as a rookie, Gordon stops his feet behind the line of scrimmage and shows off heavy, slow feet when he tries to change direction. Prosise is the complete opposite.
The right defensive end on this play is supposed to be sealed inside. He's not as the left guard misses his block. It's still a very tough play for the defender to make because he has to work around the guard's body in space to get to the running back.
Even though the defender gives himself every chance to get to the running back, Prosise is too quick to alter his direction. He doesn't make a hard cut or move his feet unecessarily, he subtly turns towards the sideline, relying on his comfort and speed to pull away instantly. Having evaded that potential disaster, Prosise is in space. He threatens the outside enough to hold the linebacker outside at the line of scrimmage before showing off exceptional acceleration through the hole.
Melvin Gordon is going to be a warning for draft analysts over the coming years. Gordon can still be a good back, but his struggles as a rookie highlight the importance of being able to move your feet and shift your weight when running between the tackles. Prosise is not only a more nuanced runner than Gordon, he understands how to show patience while still moving forward.
This is the perfect run to highlight that trait as the Notre Dame runner chops his feet repeatedly so that he is always in position to accelerate. As soon as a crack appears in front of him, he is able to shoot through it before a defender can get to him behind the line of scrimmage.
It's not just that Prosise is a smooth mover. He's not a space back or just a receiving option in obvious passing situations. He has the awareness and strength as a runner to develop into a feature back. On this play, he is directed outside by the design of the play but the upfield penetration from the edge defender forces him to try and cut back inside. With extremely quick feet, Prosise plants his right foot to push off inside but immediately plants off his left to push back outside.
Prosise realized that his blocker was going to be in his way and had past the point of return. His quick-twitch athleticism got the defensive end off balance, allowing Prosise to show off his strength through contact.
The edge defender impacts his movement but Prosise's balance is astonishing. Despite moving backwards towards a big hit, he is able to reverse course quick enough to accelerate back upfield away from the grasp of the diving defender. Even after being forced into all that movement before the line of scrimmage, he continues to fight for extra yards downfield, spinning away from one tackle before finishing the play moving forward through another.
All of this balance, acceleration, fluidity and elusiveness is extremely impressive. It's made even more so by the long speed that Prosise can top off runs with.
Prosise's running lane is clogged on this play. He stops his feet for a split second, but that actually works in his favor as it freezes the linebacker on the second level. From there, the linebacker has no chance of keeping pace with Prosise as he accelerates towards the sideline. In the open field he makes a fool out of two defenders, the arriving deep safety who misses him completely and the recovering linebacker who falls down on his ass like an old man caught in a strong wind.
The first angle of this play let's you see Prosise his gears to quickly get to top speed on the second level. His top speed is spectacular as he pulls away from the defensive backs chasing him with ease for the long touchdown.
The second angle allows you to see how Prosise shifted his weight and set up defenders once he had crossed the line of scrimmage.
---
Prosise makes defenders miss in space and he does so quickly. Like Foster, he can transition through different speeds and change direction without losing any comfort. He can accelerate and re-accelerate without tiring on the same play and he shows off a natural ability to react to how plays develop in front of him. He knows when to be patient and when to be aggressive attacking the space in front of him. Prosise isn't the type of back who is too fond of the sideline or fears contact, he runs hard even if his impact against contact is inconsistent.
When Foster entered the league, he did so as an undrafted free agent and didn't play much over his rookie season. He spent his first year in the league working on his athleticism, becoming stronger and more durable. Prosise may need to follow a similar path, proving his consistency and adding some weight to act as a feature back.
There should be no concerns about his ability to contribute in the passing game, the former receiver appears to be a natural pass catcher with the versatility to line up all over the field.
Expecting any back to be Foster is unrealistic. Foster has had a fairytale career even if he can't return fully from his torn Achilles. For a team evaluating Prosise, the potential for him to follow in Foster's footsteps should overshadow the obvious concerns about his path to this point. He may not be the best running back prospect in the draft, but he's definitely the most intriguing.