Paul Perkins Could be the Steal of the 2016 NFL Draft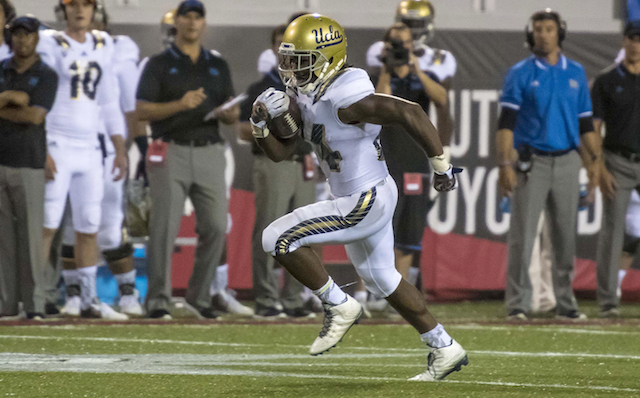 This running back class is nasty.
Ezekiel Elliott is expected to go in the top 10 or at worst fall into the teens. Elliott probably shouldn't go that high in an average class but this year's group of prospects is set up in such a way that he is an option. After Elliott, Derrick Henry is the most highly-regarded player because of his Heisman season while playing for Alabama. Henry also lit up the combine so he'll be ticking a lot of boxes for teams.
Although Elliott and Henry are interesting prospects, neither is the sure-fire bet that Todd Gurley was last year. At least sure-fire in terms of his talent even if not his health.
Without a Gurley-type of back at the top of the draft, it makes more sense to wait until the second or third round to try and pick one up. Henry could even be that guy as opinion outside of the league is split on him. Outside of those two, there are a number of backs who make this class a good one. C.J. Prosise has already been broken down on PSR as one of the most intriguing players in the draft, while Kenneth Dixon should be taken high up to immediately start and Devontae Booker could have a similar role in the NFL.
Those are the five names you hear most often if you pay any level of attention to draft twitter. The next guy on the conveyer belt is UCLA running back Paul Perkins.
When you throw on Perkins' tape, you quickly wonder why he's not being talked about more. His talent looks like it should be threatening the first round alongside Henry, if not ahead of him. Perkins is sudden, controlled, has a great burst and can break tackles. Of course, the NFL doesn't only focus on a player's tape. Like with Duke Johnson last year, Perkins will probably fall in this draft because of his size. Johnson measured 5'9″ and 210 lbs at the combine, Perkins measured 5'10" and 208 lbs 12 months later.
Johnson had a good rookie season but the Browns didn't trust him to carry the load. He finished the year with 165 total touches, 104 carries and 61 receptions after being picked in the third-round of the draft.
Like Johnson, Perkins proved in college that he could be more than just an ancillary piece of an offense. He carried the ball almost 500 times over his final two seasons at UCLA, but more importantly, he showed off a wide skill set that should allow him to excel in any situation in the NFL.
The foundation of Perkins' success will be his footwork.
This play is one of the most impressive you'll see from a running back. It's so impressive we're going to slow it down and break it into multiple gifs. Even though the offense reads the backside defender to give them a numbers advantage inside, Perkins is met in the hole by an arriving linebacker. He should be stopped here for no gain or be forced to lower his shoulder to try and drive through for forward momentum.
Perkins does neither, instead he shows off exceptional quickness and deception to make the defender miss almost instantly.
It's not just that Perkins combines decisiveness, quickness and balance to get away from the defender. He also drops low to control his center of gravity while making two movements with his inside leg in the time that most backs would make one. His first squares him to the defender before the second deceives him into thinking he is going to run inside. The Stanford defender falls to the ground because of how and how quickly Perkins beat him.
No matter how quickly you beat the defender in front of you, it's always dangerous to move laterally behind the line of scrimmage. Moving laterally can help you find holes to attack and try to create cutback lanes by dragging the defense sideways, but you can also make yourself susceptible to being hit behind the line of scrimmage while having no momentum to help you finish the play moving forward.
Because of his quickly he acts and reacts, Perkins is able to make this movement without exposing himself. Even after his first movement he can quickly reverse his momentum again to cutback upfield before passing the edge defender falling to the outside.
After jumping his way through the traffic at the line of scrimmage, Perkins is confronted in space by an arriving safety. Perkins quickly recognizes this and begins chopping his feet to manipulate the defender before he has come close to him. He doesn't have to slow down to do this and it means that Perkins can beat the defender before he gets close to completing the tackle. He tightens his left foot before planting his right outside. Importantly, this isn't one hard cut. Perkins' left foot is beneath his body as he pushes off his right so he is essentially shuffling inside at speed.
One hard cut would have slowed Perkins' momentum more while making it tougher for him to control his center of gravity. By taking this approach, Perkins not only evades the arriving safety but makes it easier to stop his speed and slip past the arriving cornerback from the outside.
This play should have been stopped behind the line of scrimmage!
Against Stanford, Perkins showed off everything you need to see from a running back in terms of footwork.
This carry immediately follows the one highlighted previously. Perkins shows off patience and light feet as he doesn't stop his feet or drop his heels into the ground as he waits for the play to develop in front of him. Perkins strikes at the perfect time, holding the inside linebacker in his gap while waiting for his lead blocker to engage the outside linebacker.
Having this patience and footwork allows Perkins to set up his route to the endzone. He has the acceleration and strength to beat the angle of the arriving linebacker and dive into the endzone.
Running between the tackles is less about being big and more about being quick, decisive and aware. Having shown off his patience and light feet, Perkins also showed off his peripheral vision and willingness to make decisive turns to attack running lanes. He is given space initially on this play, but creates more with the speed and angle that he cuts behind the block of his left guard.
When you can attack space with momentum consistently, your size is less of an issue. Perkins can accelerate to a high speed in short areas while changing direction. This will make him a very dangerous runner on the next level.
If he is forced to use his size to create yardage against contact, Perkins will obviously be at a disadvantage against linebackers and defensive linemen in the NFL. He can counter that to some degree by using his lower center of gravity and running with a streak of aggression. He can create that aggression by being violent and energetic through the first point of contact. On this play, Perkins is hit inside initially before the backside defender arrives also.
That backside defender actually helps Perkins to stay upright, but after that he has to power his legs to force his way into the endzone.
You can't afford to be a submissive runner in the NFL no matter how physically gifted you are. If Derrick Henry doesn't consistently power his legs through contact or run with upper body violence he won't be able to break tackles. Rarely do defenders in the NFL miss tackles that aren't forced on them by the ball carrier.
---
Compartmentalizing a player's athletic traits is always a dangerous action. Being able to bench press or broad jump more than another player doesn't mean much if it's not fully felt on the field. If you're as quick and explosive as Perkins is, with that low center of gravity and balance, it's a lot easier to generate functional power. Wrapping Perkins up or knocking him to the ground becomes extremely difficult because of how those traits prop up his strength more than they ever could while lying on a bench press.
Perkins may not be big but he consistently broke tackles in college because of that Marshawn Lynch-like ability to stop and start while brushing defenders off his body. Comparisons to Lynch aren't justified by that one trait alone, though it's easy to be reminded of the former Seahawks runner because of Perkins' appearance.
Josh Norris of Rotoworld has compared Perkins to Devonta Freeman, that's another aesthetically dangerous comparison but a realistic one. Freeman shares the same elusiveness in space and he developed greater power after his rookie season to become an extremely tough back to locate and bring down. Neither Freeman or Perkins have long speed that scares opponents but long speed isn't a foundational trait for a running back.
It's more important that the runner can find space on the second level than it is for him to fully take advantage of it because you're still gaining yardage on the second level for what is going to be a big play. If you have the long speed but can't find or create space on the second level, it's worthless speed.
---
---
Perkins should fit in any type of offense that he is put in. He can be a one-cut runner behind a zone-heavy line or run power despite his size. His vision, patience and decisiveness makes him a well-rounded runner. He is quick enough to change direction in different ways from different body contortions with just enough long speed to threaten big plays when he does find space.
Where Perkins should be questioned is in pass protection. It's not a major issue though.
Pass protection is something that is often overstated for running backs at draft time. It's a minor issue that can become a major problem with the wrong coaching staff in the NFL. NFL backs don't need to be great pass blockers, they just need to account for their assignments without getting run through. A smart coaching staff will do everything they can to ease those assignments, asking the back to execute chip blocks or design plays where he has the option to release into routes against blitzes.
It's only a fatal flaw for a running back if the player can't contribute as a receiver. That's not the case for Perkins. He's not Darren Sproles, but he can do enough as a natural pass catcher working out of the backfield.