Paxton Lynch Will Be Victim of Irrational Quarterback Market During 2016 NFL Draft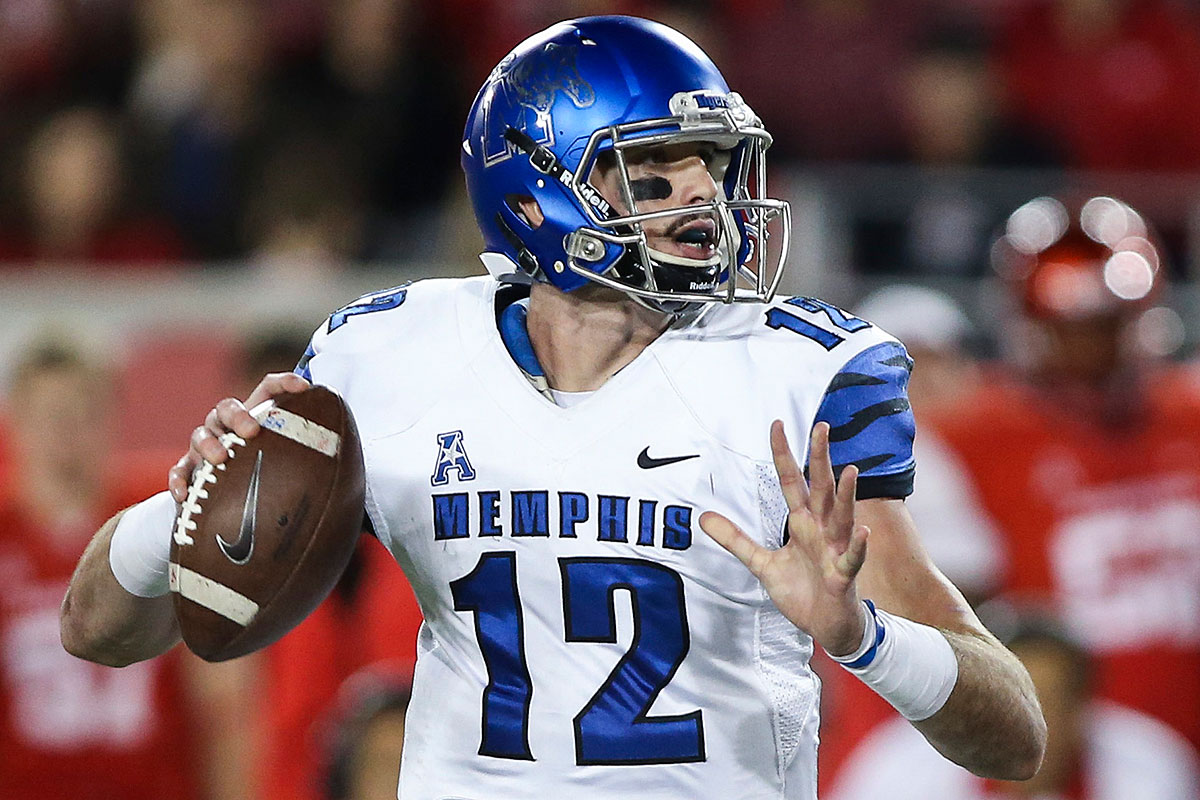 Paxton Lynch is gaining some momentum as we approach the draft. After the Los Angeles Rams traded up with the Tennessee Titans, the expectation has been that the top two quarterbacks would go off the board before any other prospects. Lynch won't follow them in the top five, but he is expected to be the third quarterback taken.
He could go anywhere from just inside the top 10 to the end of the first round. More than one of the teams picking in that range would likely ask him to start during his rookie season.
The New York Jets have surprised everyone by rebuking Ryan Fitzpatrick's contract demands. Ian Rapoport of NFL Network reported that the Jets and Fitzpatrick are "not expected to have a deal before the draft." That leaves the Jets with Geno Smith as their prospective starter leading up to the draft. Having stuck with Fitzpatrick throughout last season, it's clear that the coaching staff doesn't believe in Smith as their starter.
Having watched Brock Osweiler sign with the Houston Texans and Peyton Manning retire, the reigning Super Bowl winners are also in the market for a starting quarterback. John Elway's Denver Broncos have traded for Mark Sanchez already this offseason and reportedly made an inquiry about the availability of Tyrod Taylor. Taylor and the Bills are apparently far apart in negotiations.
Other teams will have interest in Lynch even if not as a starter from day one. The Philadelphia Eagles, Chicago Bears, Houston Texans and Arizona Cardinals immediately come to mind.
Being the third quarterback behind Carson Wentz and Jared Goff isn't like being the third quarterback behind Andrew Luck and Robert Griffin III. Luck and Griffin were both widely regarded as exceptional prospects, Wentz and Goff are at best polarizing. Lynch similarly divides opinion but he will be a first round pick because he possesses traits that NFL teams typically salivate over.
Lynch measured in at 6'7″ and 244 lbs at the combine. He is a big-bodied, strong-armed athlete who towers over his offensive linemen in the pocket. Lynch doesn't boast great arm talent, he struggles with touch throws and doesn't control the velocity of his passes accordingly when throwing to receivers in different situations. What he does show off is great arm strength. He can sling the ball downfield with ease and shows off precise ball placement at times.
NFL teams will undoubtedly label Lynch as "someone who can make every throw." In the above play, Lynch delivers the ball perfectly down the right sideline, over his receiver's outside shoulder while leading him away from the cornerback covering him infield. Take a second look at the play and you will notice that Lynch threw the ball from the left hash mark.
On this play, Lynch has to again throw the ball from the far hash mark to the opposite sideline. His receiver is running a slow-developing out route as he initially broke infield. Lynch has to hold the ball and wait for his receiver to turn back towards the sideline. He has that time in the pocket but his pass has to catch up to the receiver before he reaches the sideline. Lynch's pass shows off the requisite velocity to reach its intended target just before he falls out of bounds.
Throwing the ball from one hash mark to the far sideline is difficult for most quarterbacks. Many in the NFL won't even attempt this kind of play and offenses won't incorporate those kinds of play designs. NFL hash marks are tighter, though that doesn't mean that arm strength isn't valuable for stretching the defense both vertically and horizontally.
Lynch isn't a great deep thrower but he can be precise throwing to both sidelines. On this play you can see him hit the backshoulder of his receiver with timing and precision to give him a clean opportunity to catch the ball. These are the types of plays where Lynch is at his best. He shows off the ability to lead receivers to space and exploit the specific coverages that the defense plays.
Attacking both sidelines with deep precision is one of Lynch's strongest traits. NFL teams will value his ability to threaten big plays on every snap.
There are similarities between Lynch and expected first overall pick Carson Wentz in that both players can push the ball downfield with ease but both are also very impressive athletes. Lynch shows off more speed on the field than Wentz, though Wentz is more impactful against defenders at the point of contact. Both could be used on designed runs against NFL defenders, but the main use of their athleticism will be on bootlegs when they look to throw the ball on the move. This is another area where Lynch impresses.
---
Because of his athleticism, Lynch is very comfortable working outside of the pocket. Not only will he make precise throws to receivers downfield, he will use the time and space he is afforded to scan the defense and work his eyes to multiple receivers. He can release the ball from uneven platforms and still maintain velocity on his throws because of his arm strength. Having the option to exploit space with his legs gives him a last resort other than throwing the ball away also.
You can build an offense around these specific traits of Lynch's but it will be an offense that is reliant on the running game while the passing game acts as a limited complement.
Throwing on the move and attacking both sidelines are relatively minor aspects of being a quarterback. If you can't function from the pocket or throw with accuracy and intelligence to different levels of the field then you won't be a quality starter. Unfortunately for Lynch, there are far more questions about his ability in these areas than answers.
Lynch isn't a quarterback who locks onto his first read and stares him down. He didn't execute a complicated pass attack, in fact it was largely very simple relying heavily on screens. On this play, Lynch is rolled out of the pocket before settling in space by design. He is looking for the throwback in the flat initially, but the defense shows good discipline to cover that option. Lynch doesn't panic.
Instead, he takes his eyes away from the flat while turning his feet to find the deeper crossing route. That receiver is running to space and Lynch throws a pass that should have been caught.
You rarely, maybe never, see Lynch go through a full-field read. He will read through his progression with good timing and get to a third and fourth receiver, but he mostly does so when his eyes are trained to one area of the field and the distance between each receiver isn't vast. This play appeared to be a staple of the offense and Lynch regularly found the backside crossing route, his fourth read. Even though it's his fourth read, his eyes barely had to move and he didn't need to completely reset his feet.
This is an important distinction to make when evaluating how a quarterback reads a defense. Most NFL quarterbacks can make this type of play. Not everyone can maintain composure, balance and awareness when they are forced to reset their feet and turn to scan the full field. They become disoriented in the pocket, throwing wild passes or missing open receivers, that is presuming that they don't panic first and instinctually look to scramble after dropping their eyes from the coverage downfield.
Lynch flashed some ability to maneuver around the pocket and make throws against impending pressure, but he was far too inconsistent. His offense typically asked him to catch and release the ball quickly, so he was infrequently put in these situations. A lot of evaluation is about ratios. It's not just about doing something once or twice, it's how often you do something well against how often you mess it up.
The above play highlights Lynch's ability to move his feet in the pocket. He climbs forward to negate the edge pressure while maintaining discipline with his feet. Despite holding that position to release the ball and despite being 6'7″ he never looks to release the ball downfield.
Height is worthless if you can't see the field. It's one of Lynch's biggest issues. He doesn't throw with anticipation or show off awareness of receivers working the middle of the field. So much of the offense at Memphis had him throwing outside, whether to the flat or deep down the sideline, or throwing off of play action. In the above play, Lynch misses not one but two receivers who could have been led towards the middle of the field for relatively simple touchdowns.
Lynch ran laterally in the hopes of escaping the pocket because of his lack of poise.
One of the other concerning traits that Lynch shows off in the pocket is how he reacts to pressure. He prioritizes protecting his body over delivering the ball. Not necessarily a bad thing for his health and livelihood but not a good thing for his prospects as an effective NFL starter. You have to be willing to take hits as an NFL quarterback. Even though the rules are protecting passers more than ever, you can't make this type of throw where the ball nose dives nowhere near the receiver and expect to run an effective offense.
Lynch is very similar to Colin Kaepernick in how he functions in the pocket, Kaepernick generally shows off more accuracy attacking different levels of the field though. Had Lynch not played in an offense that relied on so many simple throws, his misses would have been more consistently startling.
Even in that offense he still highlighted his worrisome ball placement.
Chan Gailey runs a very quarterback-friendly offense. You can afford to be extremely inaccurate as a passer and still put up big numbers in that offense. Ryan Fitzpatrick proved that last year. However, Gailey's offense presumes that your inaccuracy comes on deep throws rather than short, simple throws. If you can't hit the short, simple throws with consistency then Gailey's offense is suddenly a lot less friendly. In the above play, you can see the kind of miss that Lynch struggled with in college.
He needs to lead the receiver towards the line of scrimmage on this screen play. Lynch's pass arrives way too low and too far behind the receiver. He is fortunate that the receiver was able to react to the throw and pull the ball up just before it hit the ground.
This wasn't an isolated incident.
---
---
Missing low and away is a staple of Lynch's short-throw arsenal. He constantly forces his receivers to adjust to the ball, regularly costing them completions or the opportunity to turn upfield in good time. These types of plays should be routine for any quarterback, but they are not for him. Executing this type of play is crucial in today's NFL because so many teams incorporate these types of throws to supplement the running game.
You can't just rely on deep shots downfield.
Unsurprisingly, Lynch's inability to execute simple throws extends to short and intermediate routes. In the NFL, Lynch attacking the middle of the field will have the success rate of attacking a forest fire with a sod of turf. He either doesn't understand spacing to lead receivers away from defensive backs or physically can't put the ball where he is trying to put it. The (in)consistency of his ball placement is startlingly bad.
Lynch's wide receivers aren't very good. They didn't offer wide catch radiuses or consistency catching the ball, but that only really matters if you're considering statistics in the individual's evaluation. The placement, timing and velocity of the throw can still be measured regardless of the receiver's quality. Too often Lynch wildly missed his receivers over the middle of the field while also showing off an inability to take heat off of his passes when his receivers were already open.
The above gif has been slowed down so you can see the space in front of the receiver and where Lynch's pass arrives. The receiver has to reach back just to prevent the defensive back from breaking on the ball for an interception.
Lynch essentially throws the ball to the defensive back and hopes the receiver can intercept it.
One thing you will notice if you watch Lynch enough is how many of his passes are tipped into the air. This can be simply a matter of poor luck, but that wasn't the case with Lynch. You could see the poor placement of his passes that was turning the play in the favor of the defensive back. There were also times when receivers didn't have a chance to get their hands to the ball because Lynch flung the ball as hard as he could when the receiver was only 10-12 yards away, if that.
The above play looks unfortunate on first glance. Lynch delivers the ball to his receiver who can't make a tough catch with a defender on his back. The ball bounces straight to another defender for an interception.
It's not unfortunate. It's quarterback error. Lynch again fails to lead his receiver to space, not understanding the leverage his intended target had or the coverage the defense was playing around him. The red cross is where Lynch throws the ball, high and behind his intended target, while the green tick is roughly where Lynch needed to throw the ball.
This isn't something you rationally expect to teach a quarterback, rather you work around this flaw through scheme. That brings us to Lynch's player comparison.
Lynch is a poor man's Colin Kaepernick. He's someone who might be able to thrive as a game manager in a run-heavy offense that embraces his athleticism with a simplified passing attack. He has to be the complement on offense, while the offense needs to be the complement to the defense. Lynch shouldn't start as a rookie, like Kaepernick, but chances are he will be forced to.
The only hope then is that he can lean on a dominant defense….maybe a reigning Super Bowl Champion defense.