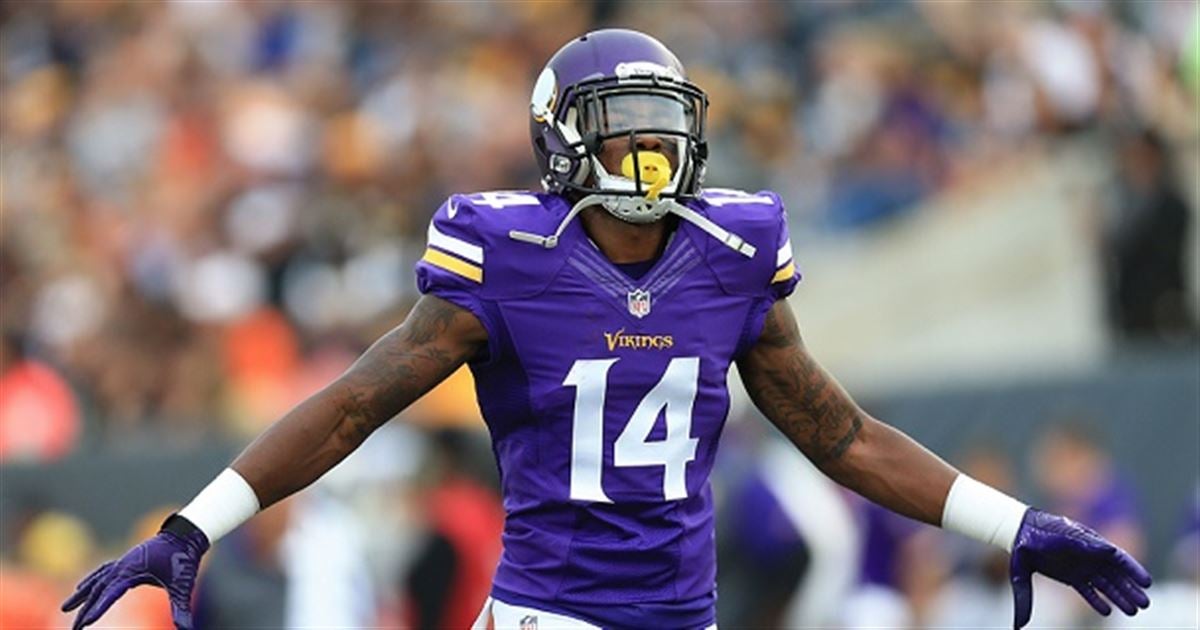 The Minnesota Vikings passing game was congested in 2015. A schematic deference to Adrian Peterson combined with an inept offensive line and a lack of NFL talent at the receiver positions meant that Teddy Bridgewater's numbers nose-dived. Bridgewater finished the regular season with just 14 touchdowns, nine interceptions and 3,231 yards.
21 quarterbacks threw for more yards than Bridgewater. 25 quarterbacks, including Brian Hoyer, threw more touchdowns than Bridgewater.
Besides Bridgewater's ability to withstand such difficult circumstances, the only positive to come out of the Vikings passing game in 2015 was the play of rookie wide receiver Stefon Diggs. Diggs didn't play in the first three games of the season but finished the year with 720 yards and four touchdowns on 52 receptions.
Diggs accounted for 22.3 percent of Bridgewater's yards and 28.6 percent of his touchdowns. His numbers in a vacuum aren't spectacular but, like his quarterback's, Diggs' numbers have to be considered in the context of his offense.
Stopping the Vikings passing game was a straight-forward task. According to Football Outsiders game charting, the Vikings averaged 5.3 yards per play when teams didn't blitz and 7.2 yards per play when they did. Most teams attempted to isolate each of the Vikings linemen in one-on-one matchups by rushing exactly five defenders. The Vikings faced five-man rushes on 32 percent of their dropbacks. No other team faced five-man rushes on more than 28 percent of their dropbacks while seven teams faced five-man rushes on 20 percent or lower.
The Vikings passing game asked Bridgewater to hold the ball so they invited pressure and disruption to their downfield passing game. Furthermore, the Vikings receiving corps lacked speed so it was easier for defenses to crowd zone or mixed coverages and sit on routes.
Any space that Vikings receivers found was space they had to create for themselves. Fortunately, that is where Diggs excels.
If Diggs were a deer in the headlights during his debut last year, the headlights belonged to suped up Monster truck. Diggs made his debut for the Vikings against the best pass defense in the league and one of the best in history. He was regularly matched up with one of the better starting cornerbacks in the NFL, Aqib Talib. Diggs had an inconsistent first outing, marred by fumbles and drops, but he also made a variety of big plays.
The above gif showcases his most impressive play from that day. Talib is sitting in off coverage and tracking him through the stem of his route. At the perfect time, Diggs baits him out of his backpedal with a hard inside step before breaking back outside towards the sideline. Diggs is smooth. Really smooth. He bends his knee and sinks his body into his cut without losing speed to sell it to the vaunted cornerback.
Talib is sent in the completely wrong direction, creating a wide throwing window for Bridgewater.
Out routes are where Diggs can build the foundation of his production. He is a sharp-cut specialist who not only understands how to sell his breaks but someone who also understands when to break and how to do it at speed without losing his balance. The then 21-year old crossed off notable victims throughout his rookie season.
Fellow rookie Marcus Peters is first up. Diggs' first step is very important here. It's his first step that that puts Peters in a position to be manipulated. Peters' right foot plants in front of his body first, pushing his center of gravity outside and turning his body slightly towards the sideline. He can quickly recover because it is a small movement but this allows Diggs to advance downfield.
Diggs angles his route infield without overcommitting to the middle of the field. With this stem (the initial direction of the route), Diggs is doing two things. He is creating a wider throwing window for Bridgewater to hit because when he turns back towards the sideline he will do so inside the numbers rather than outside the numbers. And he is setting Peters up to overcommit to the seam.
Peters isn't in position to flip his hips and turn with with Diggs because of how the receiver set him up. Like Talib, he is forced to turn the wrong way to take himself completely out of the play.
Second up in the sequence of separation is….ummm, Marcus Peters! Peters tried to sit off Diggs on this occasion. This coverage was poor from the cornerback. He was too quick to commit to the seam, making it easy for Diggs to turn him the wrong way and catch the ball outside. Even though Peters was undisciplined with his feet, Diggs should still get credit for not tipping his route in any way.
He again releases from the line inside and keeps his body focused fully on the seam before making one quick, sharp cut outside. He makes sure that Peters' mistake is punished.
From the same game, Diggs got Peters' teammate Sean Smith. Diggs doesn't make a sharp cut on this play but he again sets the cornerback up to fail.
Stems are very important for receivers. They not only determine the starting positions for the receiver but they also determine the starting positions for the cornerbacks. A bad stem will take away the receiver's space and make it easier for the cornerback to shift his weight when trying to mirror the receiver through his breaks. Diggs' stem was again ideal on this play as he drew Smith infield before turning into his body to test the taller cornerback's agility.
Having got one of the newly-minted cornerbacks from the 2016 free agent class, Diggs decided to go after the highest-paid one. Janoris Jenkins is an aggressive cornerback, someone who prioritizes chasing interceptions over covering his assignment. Diggs uses his aggressiveness against him by releasing upfield in this route and transitioning quickly to turn back towards the sideline. Jenkins reads his route as a curl back towards the quarterback so he is taken completely out of the play when Diggs breaks outside.
When you're as smooth as Diggs, your options coming out of breaks are endless. Cornerbacks learn to fear you when you show off the deceptiveness that he shows.
Not coincidentally, a week after Diggs roasted the Chiefs cornerbacks on out routes on his way to his first 100-yard receiving game, Rashean Mathis overplayed a route that looked exactly like the out routes that Diggs had been running. His release from the line of scrimmage was angled inside before he straightened his stem downfield. Mathis, a veteran cornerback, doesn't have the physical talent he once did so is likely relying more on his tape study to try and read Diggs' routes.
Diggs' actions are so consistent that it's very difficult to get a read on what he intends to do. Everything about this route looked like an out route until it wasn't. Until he was turning upfield and running past the cornerback for a wide open touchdown reception.
While that touchdown reception was wide open, it wasn't easy. As he is wont to do, Bridgewater overshot the vertical route downfield and forced Diggs to make a diving reception. Diggs pulls the ball in while in the air and cradles his body beneath it to maintain control through the end of the play. His second gear of acceleration to catch up to the ball and his balance throughout the whole play was extremely impressive.
Diggs isn't necessarily a big receiver but he has some length at 6'0″. He is thin but shows off strength and ball skills at the catch point.
Although he's largely a space player, not someone you throw jump balls to in the endzone, Diggs can bail his quarterback out on occasion. He is a natural hands catcher who can high point the ball or make tough catches along the sideline. The body control and balance he shows through his routes translates into how he catches the ball.
More importantly, Diggs knows how to approach the catch point.
Diggs knows when his priority is to protect the ball with a body catch.
He knows when and how to body catch with precise footwork to set himself up for YAC.
He has the awareness to attack the ball and work back through it to create space through the catch point, a critical element for any receiver who wants to consistently convert downs.
Diggs runs routes like Greg Jennings and acts like Michael Crabtree at the catch point. It's not a coincidence that the Vikings drafted him after failing to find success with a past-his-prime Jennings. Jennings' failures in Minnesota were of his own creation. He couldn't consistently catch the ball and his routes became lazy. He was expected to thrive with Bridgewater because the young quarterback excels on intermediate timing routes, throwing with precision and anticipation. Diggs should seamlessly fill that role in the offense.
The one element of Diggs' game that could separate him from the Crabtree/Jennings tier of receiver is his ability once he has caught the ball.
---
---
Gus Johnson wouldn't say that Diggs has "getting away from the cops speed" but the receiver is fast enough to stretch the field. His speed is at its most valuable when he has the ball in his hands because he shows off the awareness and elusiveness to create space as a ball carrier. As the final gif above highlights, Diggs also doesn't go down easily. He attacks contact which is often enough to gain good yardage against reluctant/disinterested defensive backs.
The Vikings need more receivers like Stefon Diggs. Even if he's not going to be one of the very best receivers in the league, he possesses the skill set of a quality starter if he can establish and maintain consistency.
Once the Vikings passing game is decongested, something that is unlikely to happen until Adrian Peterson moves on to another team or retirement, the spread formations and elevated receiver talent around him should make Diggs a more intimidating presence.
Since 2006, there have been plenty of wide receivers selected in the fifth round or later who went on to become integral pieces of their respective offenses. Marques Colston, Pierre Garcon, Steve Johnson, Julian Edelman and Marvin Jones are the most notable names outside of Antonio Brown, the best wide receiver in the NFL.