Jadeveon Clowney is Following Same Path as Khalil Mack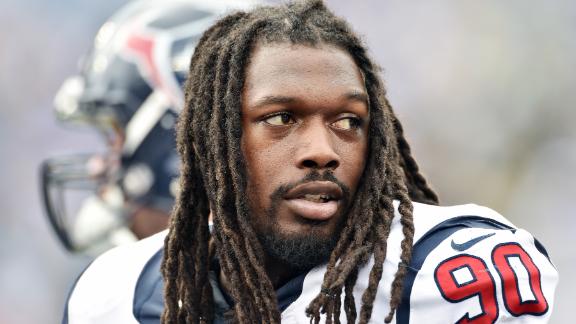 Khalil Mack had a predictable season in 2015. The Oakland Raiders edge defender "broke out" with 15 sacks and two forced fumbles in 16 regular season games. During the previous season, his rookie year, Mack had only notched five sacks in 16 games.
Ahead of his third season, Mack is now considered one of the best defenders in the NFL. A true playmaker who can be one of the best players on one of the best defenses in the league.
Jadeveon Clowney isn't at that point yet. Clowney was the first pick in the 2014 draft and the only defender selected ahead of Mack. There was some debate between the two ahead of the draft, but the generational prospect who had been tabbed as a top pick since leaving high school ultimately followed his expected path.
It would be easy to paint Clowney as a bust to this point in his career. He played just four games during his rookie season and managed only 4.5 sacks during his second when he played in 13. Microfracture surgery and other health issues have limited Clowney's effectiveness, that is inarguable. Questions linger about how effective he has been when available.
For similar reasons to Mack after his first season in the league, Clowney's talent is being questioned at this point because of his production, or lack thereof. Even though the NFL continues to evolve and theoretically advance in how it analyzes player performance, sacks remain the main measurement of a pass rusher. J.J. Watt's notoriety was earned by getting to the quarterback 20+ times during his second season and 49 times over the three seasons since.
Watt's ability to disrupt passing plays with pressure and destroy running plays with penetration is hugely valuable, but it's not what allows him to be one of the faces of the league.
Pressure and penetration is a good way to measure the quality of a young player though. You can fall into a 10-sack season if you just happen to be in the right place at the right time, Calvin Pace and Jason Worilds come to mind over recent years. That doesn't mean you can't establish your quality by getting a lot of sacks, but it does mean that sacks alone aren't the standard young defenders should be held to.
Mack didn't have a lot of sacks during his rookie season but he was consistently beating blocks to shutdown running plays and disrupt passing plays. Four or five inches could have been the difference between him having five sacks in the regular season and him having 10. Save your Al Pacino references.
While Clowney has been hurt and not on the field as often as he needs to be, his actual performances haven't been lacking.
One of the things that made Clowney a generational prospect coming out of the draft was his power. Casual fans watched his games and expected him to get multiple sacks in every game. That was never realistic because of how opposing offensive coordinators gameplanned for him. Clowney regularly saw extra attention whether it was with chip blocks, double teams or even triple teams. Offenses sacrificed those bodies to Clowney because they knew he would slide right through lone pass blockers.
This trait has translated against professional linemen.
Clowney is a raw rusher. He is a physical specimen who didn't need to develop an array of moves to beat offensive linemen in high school or at the college level. He doesn't need moves to beat a large percentage of NFL offensive linemen either. Being a technically refined defensive lineman isn't just about using specific moves or where you place your hands, it's also about timing and knowing when to make specific movements. In the above play, you can see Clowney's lack of refinement.
He tends to play taller than he should. That is evident at the beginning of this play as he tries to spin away from the right guard. He spins right into the center and should be kocked backwards or to the ground because of the position he has assumed. He isn't though.
The monstrous defensive end is able to line up as a defensive tackle and attract the attention of two theoretically bigger offensive linemen form a less advantageous position because of his brute force and balance. Clowney overcomes his poor movement and timing on this play by simply force his way into the backfield. He is a split second too late to get the sack but does impact Winston in the pocket.
For someone who was confronted by a double team and spinning to his detriment, that is a frightening achievement.
Although not a speed rusher, Clowney's brute force can be an asset coming off the edge. He regularly attempts to lean on the outside shoulders of offensive tackles to swing his way around them and force his way to the quarterback. On this play against the Carolina Panthers, Clowney is able to beat Michael Oher and is a fraction of a second away from forcing a fumble from Cam Newton. Instead, he caused an incompletion by hitting Newton as he released the ball.
Clowney is massive but he carries very little negative weight. He's nowhere close to a Vince Wilfork, but he also looks like a different species to a Red Bryant or even a Michael Bennett. He is long and lean with bulk that is seemingly perfectly spread out. Why is this important? It gives him a versatile athleticism that few players boast.
With his frame, Clowney is able to show off fluid, explosive and balanced movements that can be used to deceive offensive tackles. While being threatened by his ability to run right through you, you have to watch out for his footwork. In the above play against rookie Donovan Smith, Clowney makes a hard push off his outside (right) foot that completely freezes Smith. From there he can comfortably force his way through the B-Gap and towards the quarterback.
It's important to note Clowney's hand usage here. He executes a quick swim move to create a small pocket of space to work in. While he doesn't do this as consistently as he needs to, there are enough flashes of this technical prowess to be optimistic about Clowney moving forward.
Against Terron Armstead, Clowney had three separate plays that sum up where he is in his development.
When coming off the edge, Clowney's favorite move is to try and get on the outside shoulder of the defender and swing around into the pocket. When the offensive tackle is athletic enough to match his strength and speed, the edge defender has no response. Clowney too often turns away or goes limp instead of showing violence in his hands or an ability to redirect against contact.
Armstead shows off good athleticism and perfect technique to make sure that Clowney can never threaten the pocket on this snap.
Too many of Clowney's snaps look like the above where he attempts to bull rush his opponent but is too easily locked up. Hand usage, intensity and violence are all key elements of being a pass rusher and Clowney simply hasn't developed those attributes yet. That's not really a surprise considering how his injury-hit career has unfolded to this point. It's hard to develop when the majority of your time is committed to recovering from major injuries.
Mike Vrabel is the Texans linebackers coach. Vrabel is being given a lot of credit for his work and being discussed as a future head coach. To prove his mettle, Vrabel should be able to develop someone with Clowney's physical talent. The best measurement of Vrabel's ability as a coach will be how much Clowney's game develops technically.
Despite his technical limitations at this point, Clowney is still capable of beating offensive linemen. He regularly does this in one specific way.
Clowney's inside move is his most potent weapon. When he comes from wide and presses the outside before exploding into the offensive tackle's inside shoulder it's extremely difficult for the blocker to conjure enough strength to contain him.
This should become an unstoppable move for Clowney if he perfects his timing and hand usage. His physical force and fluidity are unmatched by any offensive lineman that he will face.
When Clowney is violent and intense, you will see him making eye-opening plays that few players in the NFL have ever made look so easy.
The Texans aren't helping Clowney's development. He drops into coverage on occasion and is lined up at different depths in different spots as a pass rusher. Moving pass rushers around the formation makes it tougher for opposing teams to specifically account for them, but it's something that should be done once the defender has refined his ability to rush the passer. If Clowney just lined up on the edge and rushed from the same spot over and over again it would be easier for him to develop muscle memory and refine his skill set.
Furthermore, the Texans also used Clowney in a lot of three-man rushes where he was double and even triple-teamed while opposing offenses consistently sent running backs and tight ends to chip him on four-man rushes.
Opposing offenses already recognize and respect Clowney's ability to win one-on-one matchups, as they should because his talent has been obvious to this point in his career. Like Khalil Mack during his rookie season, Clowney proved to be a dominant run defender who flashed his potential as a pass rusher often enough to be optimistic. At 22 years old after missing his first through injury, Clowney's second season was essentially his rookie year.
Nobody should be surprised if Clowney becomes one of the best defensive players in the NFL as early as 2016.