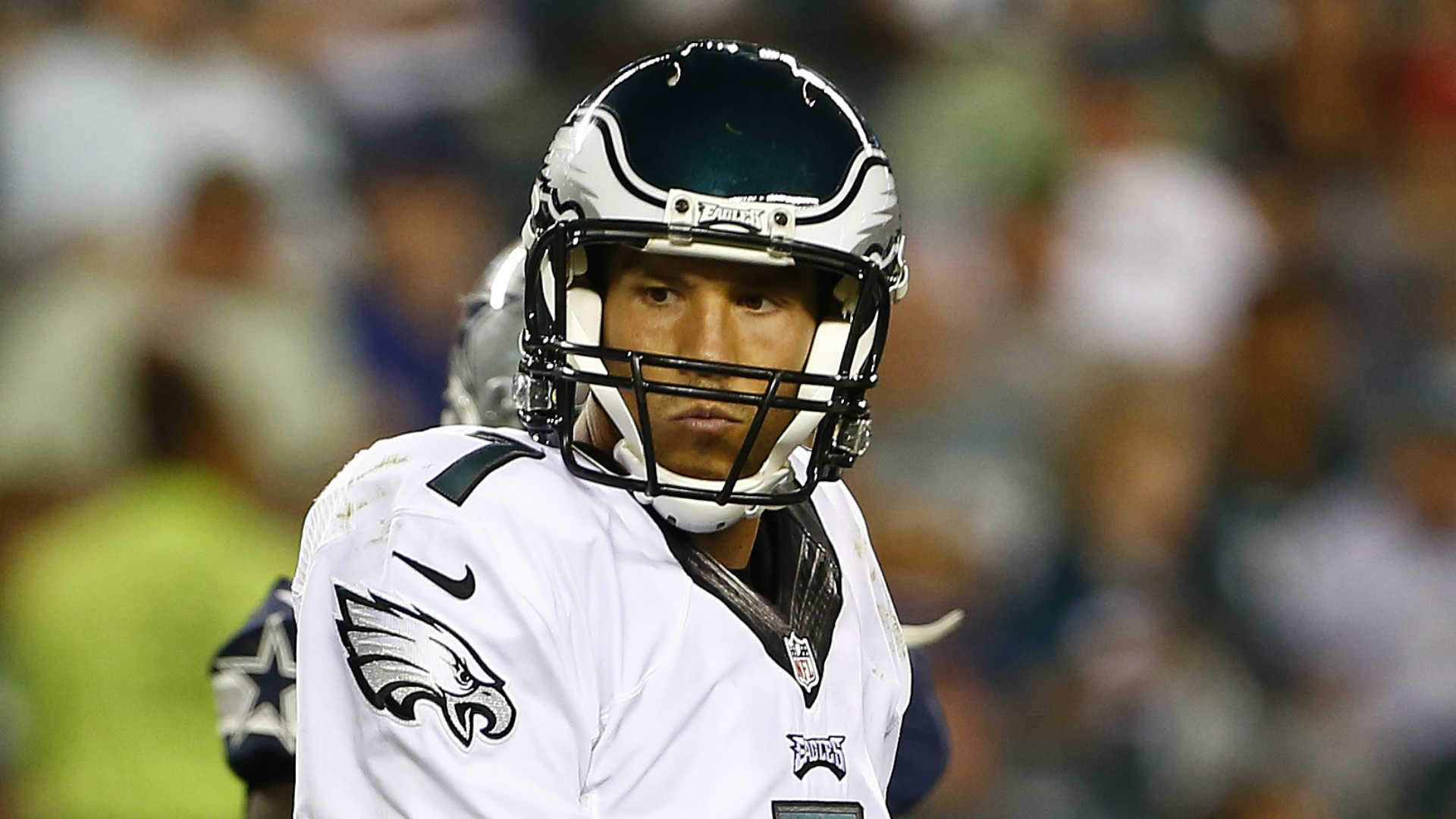 Sam Bradford is a hard sell. The newly-acquired Minnesota Vikings quarterback will play for his third team in 2016, starting for the injured Teddy Bridgewater on a team that had Super Bowl aspirations. Bradford is a hard sell not because he is a bad quarterback, but because his resume doesn't fit with what NFL audiences want.
American sports are engulfed in statistical analysis. A quarterback who has been around for a relatively long time, who has never put up spectacular numbers and never played on a winning team isn't going to be well received by analysts or fans.
Bradford hasn't put up good numbers or played on winning teams, but his skill set and his performances on the field have been consistently good over the course of his career.
Arguing for Bradford requires arguing against a culture that judges him by using statistics he only partially contributes to. That's a pointless argument because people have their minds made up in that regard. Instead, let's look at how Bradford fits with the Vikings.
Shaun Hill is what Matt Hasselbeck was last year. Filling a roster spot but not really an option. Hill can barely even throw the ball at this stage of his career, he couldn't really throw it during his prime either but that's a different story. In the Vikings offense, Hill would have limited what the passing came could do surpassed five yards downfield.
With Bridgewater, the Vikings ran a deep-drop, heavy-set offense that asked him to push the ball downfield. Bridgewater couldn't really do that but he thrived on intermediate routes so the offense still functioned while placating Adrian Peterson and the run game.
Bridgewater is a better quarterback for the Vikings than Bradford, but Bradford will fit in this offense better because of his ability to push the ball downfield.
In 2015, Bradford was one of the better deep passers in the NFL. He finished 10th in deep accuracy percentage. Bradford was accurate on 52.1 percent of his throws, only 13 quarterbacks were 50 percent or higher and only one was over 60 percent. It wasn't a warped result based on sample size either. Bradford was accurate on 25 of 48 pass attempts that travelled at least 20 yards past the line of scrimmage.
Why didn't this register as a positive? The Eagles receivers kept dropping the ball.
Bradford releases this ball from the one-yard line. It arrives 22 yards past the line of scrimmage at the 31-yard line. Jordan Matthews doesn't need to break stride and the ball hits him in the hands. He is wide open but the ball goes through his hands. Had he caught it, he would have had an opportunity to run 69 more yards for a touchdown because the safety was the last defender coming from the middle of the field.
As he did with great consistency last year, Matthews dropped the ball and killed any production Bradford should have earned.
On this First-and-15 play from the Washington 27-yard line, Bradford initially reads the left side of the field before coming back to the right side. You can see the bounce in his feet that wasn't apparent early in the year as he worked his way back from a torn ACL. The timing and read on this play was good. The throw was phenomenal.
Nelson Agholor isn't open. Bashaud Breeland has perfectly played his route. Sitting on the seam and taking away Agholor's space. Agholor runs his route but Bradford recognizes that he's not open inside. He puts the ball on Agholor's outside shoulder, lifting it enough to clear Breeland's outstretched arm and land it in Agholor's.
Agholor is in the endzone, 28 yards downfield, outside the numbers on a throw that came from the far hash. He drops the ball.
From the same game, Riley Cooper did what Riley Cooper did best last year. He ruined a play. This was one of Bradford's best plays of last season. He managed the pocket and worked his way to find space and buy tie. When he released the ball, he did so while on the move and hit his receiver in stride again. This time he was more than 40 yards away.
On this play Bradford is hit as he releases the ball but still delivers an accurate pass. Zac Ertz, as he often did last year, failed to complete the catch.
You can find examples of these types of plays being ruined by receivers all through last season. But what do you expect when Miles Austin is getting significant snaps in your receiving corps?
It didn't help Bradford that some of his best games came when the Eagles receivers had their worst games. The Carolina Panthers performance was particularly disastrous for those around him. This doesn't even consider the state of his offensive line and a coaching staff that became stubborn when they needed to adapt to their struggling personnel.
Bradford had similar problems with the St. Louis Rams. His offensive lines were never capable of holding up against four-man rushes while his receivers couldn't get open or consistently catch the ball. Look through the best receivers Bradford has played with in his career, Mark Clayton, Danny Amendola, Brandon Lloyd and Austin Pettis appear much earlier than you expect them to.
There's no question that Bradford can consistently hit vertical routes. The question for the Vikings is if they have the receivers.
The Vikings receivers didn't struggle catching the ball last year but besides Stefon Diggs, nobody could consistently get open. Laquon Treadwell is developing in the background while Charles Johnson is the team's starter. Johnson, Diggs and Adam Thielen are more solid than spectacular as a group. Bradford should rely on Diggs, even though he doesn't offer the same peak precision that Bridgewater offers on intermediate routes specifically.
Unless Treadwell shows up and proves he can be a ball winner at the catch point downfield, the Vikings deep passing game could prove to be limited like it was last year.
Bradford at least gives it a better chance than Bridgewater did.
One of the biggest things Bridgewater did for the Vikings offense last year was function against pressure. Bridgewater is (or was) one of the best quarterbacks in the NFL in a tight pocket. He moves and throws against pressure with quickness while maintaining his focus on the coverage downfield, his balance with his feet and his mechanics releasing the ball. Bradford won't replicate that element of Bridgewater's play, but the Vikings hope that he won't have to.
Adding Alex Boone and Andre Smith should solidify the team's pass protection. It won't be a great line but it shouldn't be the colossal disaster it was last year. With Adrian Peterson acting as the foundation of the offense and Bradford working heavily off of play action, they should be able to give him clean platforms to throw from both in and outside of the pocket.
Jerrick McKinnon needs to be involved more. He needed to be involved more last year too but Norv Turner has been stubborn in sticking with a rigid offensive blueprint.
McKinnon's ability to get open in space underneath will be valuable with Bradford. He and Diggs should get a lot of YAC opportunities because of Bradford's short-level precision and ability to lead receivers to space. On screens and slants he will offer the kind of velocity and placement that Shaun Hill has never shown in his whole career.
Giving up a first-round pick for Bradford may seem crazy, but he will allow them to compete for a playoff spot and he won't make them certain losers once he gets there. He's far from a Brian Hoyer-level of quarterback.
For a team with as much young talent as the Vikings have, losing a pick or two won't derail the direction of the franchise. It will allow them to maintain some optimism this year when their leader has been trapped in the lowest pit of darkness an athlete can be trapped in.
Not to mention, Bradford's contract will allow the Vikings to ease Bridgewater back into his career (presuming he comes back) unless he completely busts.