An Early Look at Mike Mularkey's Offense With Marcus Mariota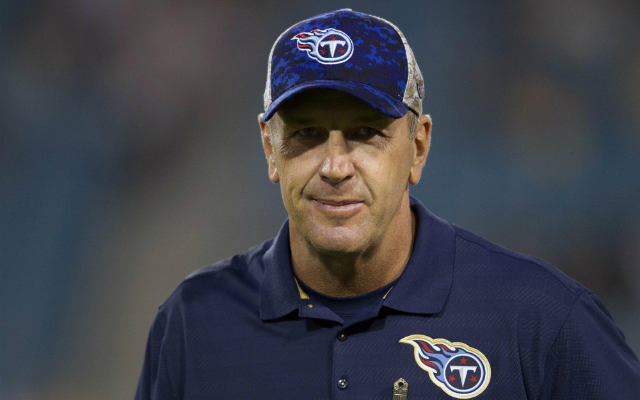 Marcus Mariota showed during his rookie season that he was a quarterback and not a gimmick. He quickly separated himself from the 'system quarterback' label that had been unfairly applied. When he dropped back into the pocket, he comfortably shifted his weight with subtle feet while making timely coverage reads downfield. It's all broken down here.
During the draft process it was often said that Mariota needed the right coach to get the most out of his skill set. The suggestion was that he needed a coach who would simplify the passing game and make use of his athleticism.
Ironically, it's that type of coach that is set to derail his career.
Mike Mularkey isn't the right coach for anyone. The least enticing head coaching hire from the offseason appeared to earn his new role through a combination of nepotism and apathy from owner Amy Adams Strunk. Mularkey has a long track record of losing football games. His philosophy is antiquated and he appears to view Mariota as just an athlete, like the quarterback he previously had success with: Kordell Stewart.
(That was more than a decade ago and only really lasted for one season…if that.)
Last Sunday, we got our first glimpse at Mularkey's offense in regular season action. The Titans opened the game with a DeMarco Murray run from under center before Derrick Henry took the ball from Mariota on a read-option look. That led to Mariota's first play…
When Mularkey was the team's interim coach last year, he talked a lot about protecting Mariota better. He attempted to do this by keeping extra blockers in. After being hired as head coach, Mularkey talked about running Mariota more. His thought was that running Mariota would allow him to protect himself more if he could get outside of the pocket. There is some cognitive dissonance in talking about protecting Mariota better while then running him.
Regardless, Mariota's first play against the Vikings was a read-option run when he kept the ball and escaped outside for three yards and a first down.
Running Mariota isn't smart. He's not a creative runner and despite what Mularkey says, it does expose him to greater punishment. Running Mariota isn't the biggest problem with Mularkey's philosophy. The biggest problem is the design of the passing game.
With a great quarterback, someone who can move in the pocket like Mariota does, someone who can manipulate coverages, throw against pressure and read through progressions like Mariota does, it's not smart to simplify your passing game. Great quarterbacks need options. In today's NFL where the rules heavily favor the receivers, your goal should be to have as many receivers on the field as possible while letting the quarterback keep his eyes on them to find them.
Using hard play fakes and extra blockers on passing plays places a greater emphasis on the execution of the offensive line and the susceptibility of the defense to play fakes. When the defense stays disciplined against play fakes, the quarterback is often going to find himself in hapless positions. If you have a great running game and a good athlete at quarterback who can't execute the tougher assignments that come with a more modern passing game, this approach is fine. Think Colin Kaepernick at his peak.
If you don't have a quality running game/offensive line and you do have a quarterback with the capability of elevating his teammates in a modern passing game, you're neutering your most important player.
Mariota's first pass came on the very next play. He began the play under center.
The first thing to note on this play is how tight the formation is. There isn't a receiver on the numbers to either side of the field, never mind one outside of the numbers. Mariota has two (two!) players in fullback positions with one running back behind him. With this personnel package, the Vikings stay in their base defense. The Titans aren't a team with the inclination or personnel to manipulate the defense when they play specific packages. They won't come out in a heavy formation and spread the field to expose the strong-side linebacker or force a safety to play cornerback.
Inevitably, the Titans run a play fake. There is no pulling guard or pulling tackle to sell the play fake. The Vikings are one of the best coached defenses in the NFL so it's no surprise that they don't bite on the fake at all. Six defenders drop into coverage against just three receivers who release outside. This is a problem. It's not the only problem though.
All three of the receiving options release vertically downfield. This keeps the passing game narrow like the initial formation. The tight end who had initially lined up as a fullback eventually turns his route outside but there is a defender waiting to drop with him regardless. Further downfield, Mariota's receivers don't break horizontally. Their routes are deep curl routes.
Mariota could force the ball into one of these windows, but it would be tight and his bigger receiver, Tajae Sharpe, has a defender right on his back. Mariota shuffles for a second before breaking into a full-on sprint to escape the pocket.
He isn't looking to scramble. He is trying to lead his receiver outside to where there is space. He is also creating an angle where he won't have to throw over a defender to get the ball to him. The trade-off is that Mariota has to try and throw an accurate pass while on the move. This is something he proved to be very effective at last year but it still makes every throw tougher.
As the gif shows, Mariota's pass drifts away from Sharpe.
Mariota isn't a vertical passer. That was made abundantly clear last year when he repeatedly struggled to hit receivers deep downfield. He is a passer who can thrive throwing short and intermediate routes with touch, anticipation and precision. The passing game should be built around concepts that complement his skill set. When the quarterback is turning his back to the coverage and executing a play fake with vertical routes, it's impossible to run a quick passing game that attacks the short and intermediate levels of the field.
On the next play, the Titans put Mariota in the shotgun and ran short routes that complemented each other. With options on both sides of the field, all five eligible receivers ran routes, and without having to turn his back to the defense, Mariota could make a quick read and throw a precise pass. He hit Sharpe on a slant route for 12 yards and a touchdown.
A tipped screen pass and a negative run from Murray eventually set up a Third-and-11 that ended the drive. On that occasion the Titans spread the field with five receivers but three of the routes only went four yards downfield and the two that went to the first-down marker were deep curls, similar to the first gif in this article. The Vikings blitzed and Mariota had no quick outlet. He stepped through the pocket and released the ball as the pocket closed on him. It was a poor pass from the quarterback into a tight window.
Mariota didn't play well in this game. He ranked 24th in the NFL1000 that publishes on Bleacher Report this week. He was one of only nine quarterbacks not to get a grade of at least 70.
Framed by his rookie year, one bad display from Mariota isn't anything worth worrying about. It's also undeniable that Mularkey's offense played a huge role in his struggles. Mariota should rebound, the bigger question is if Mularkey's offense will allow him to.
On the very next drive, the Titans returned to an extremely tight formation. This time the Titans ran a bootleg play action that sent Mariota into the right flat by design. Typically, you have three receivers working to the same side of the field with you in this situation. One deep, one intermediate, one short. Peculiarly, Mularkey sends four receivers with Mariota. The quarterback has a chance to hit Delanie Walker but Trae Waynes does a good job of staying tight to his back.
Ultimately, Mariota checks the ball down to Derrick Henry. Henry actually turns the ball into a 20+ yard gain but when he catches the ball he has two defenders closing on him. That is when the play design itself ends and Henry's individual talent takes over.
The Titans went back to the same play concept almost immediately. This time they only had three receivers running downfield, but all three were still tightly covered. Mariota fit the ball over Harrison Smith and into a tiny window where only Rishard Matthews could catch the ball.
In the redzone, Mularkey opened with a designed run for Mariota, something he did again later in the game. The other designed run in the redzone was a speed option where Mariota looked to pitch the ball and for some reason DeMarco Murray never put himself in position to receive the ball.
Mularkey is mixing in plays that suit Mariota's skill set, but the prominence of vertical routes, hard play action and tight formations is doing a disservice to his quarterback. On the Titans' first three drives of the game, Mariota was on the field for 21 snaps. Those 21 snaps featured 10 snaps where the Titans had a fullback on the field, three where they had two fullbacks, six plays where there wasn't a receiver on or outside the numbers to either side of the field and six plays that used play action. Two of the play action plays were play fakes on runs. They also used two screens.
The fourth and final drive of the first half resulted in a touchdown when the offense opened up more.
Furthering the irony, Mariota's two turnovers came on plays that would be classified as athlete friendly.
On a play action from shotgun that nobody on the Vikings defense bought, Mariota was sent sideways into an unblocked defender. He tried to adjust and threw an awful interception. It was a terrible decision and throw on a play where his best option was to eat the sack immediately.
His fumble that followed the interception was credited to him though it's hard to be certain who was at fault. Mariota appeared to pull the ball later than he should of and it hit Murray's elbow on the way out.
The best case scenario for the Titans is that Mularkey is a Jim Tomsula-type of rental. A bridge head coach until they can find someone more worthwhile. That's unlikely though. Trading down for future picks in the draft and not even attempting to woo Chip Kelly, or any other outside coaching candidate in the offseason suggests that the Titans are all in on the head coach who epitomizes the NFL's standard for subpar.
In truth, if this is the philosophy the Titans want it would make more sense for them to trade Mariota for Colin Kaepernick and a raft of extra picks. And hey, it's the Titans, so that's not a possibility we should rule out even if it appears improbable right now.