Andy Dalton, A New Philosophy and Making a Bad Situation Worse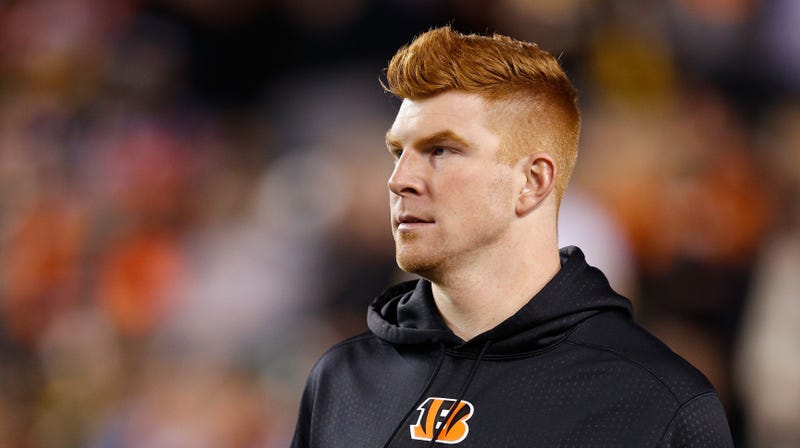 Andy Dalton's injury last year came at the worst possible time. That's not hyperbole. It's not a phrase being used for dramatic effect. Dalton literally couldn't have been hurt at a worse time for both he and the Cincinnati Bengals.
That Bengals team was at its peak. It was about to contend for a Super Bowl because everything had aligned perfectly on offense. Neither Marvin Jones nor Tyler Eifert were rookies anymore and both were fully healthy. Mohamed Sanu stopped dropping passes and instead thrived at pulling them in against tight coverage. A.J. Green was A.J. Green and the offensive line was arguably the best in the NFL because of its diversity.
In his wide receiving corps, Dalton had mismatch receivers no matter where he looked. Green is a mismatch regardless of who lines up across from him. Marvin Jones is talented enough to be the best wide receiver on most teams but he was playing the role of the number two in this offense. Jones was the number two wide receiver but the number three option in reality. That is because Tyler Eifert enjoyed a breakout season where he proved to be an accuracy-erasing, uncoverable tight end approaching that elusive Rob Gronkowski level of effectiveness.
Even Sanu, who isn't a great receiver by any measure, was a constant matchup nightmare for defenses because he regularly faced the opposition's third or fourth defensive back while coverage tilted elsewhere.
For Dalton, this meant that he rarely had to throw with precision. Each of his targets were accuracy erasers. That means they had wide catch radiuses and possessed the ability to adjust to the ball no matter how it arrived. Dalton only needed to throw catchable passes for the offense to thrive. While his receivers dominated, they also rarely dropped passes. Dalton lost a completion on an accurate pass once every 21.4 attempts last season. To put that in context, Marcus Mariota lost one every 9.0 and seven more quarterbacks lost one every 10.0 or fewer attempts.
Only Kirk Cousins was even close to Dalton as he lost an attempt once every 19.0 attempts. It was no surprise that 29 quarterbacks lost more yards to wide receiver error than Dalton did last year.
You could talk at a greater length about the value of those receivers surpassed their dominance at the catch point and look at the YAC ability they had in Jones, Green and Gio Bernard out of the backfield, but another factor looms large. Orchestrating the most talented and effective supporting cast in the NFL was Hue Jackson. Jackson is a great offensive coordinator. He understands that the quarterback position is more important than any other and sets about prioritizing his quarterback's skill set to set him up for success.
Jackson and his array of talented pieces allowed the offense to remain effective even after they were forced to use A.J. McCarron. McCarron was effective and Dalton was by no means integral to the offense's success, but it's still clear that the second-year backup was a significant downgrade from the established starter. Jackson made it work as best he could.
When Dalton was healthy, Jackson built an offense that attempted to simplify reads for his quarterback by using packaged plays and spread formations to try and force the defense into hinting what it was going to do. He also relied on heavy-set formations to run the ball with Jeremy Hill. Jackson blended the strengths of his offense perfectly to accentuate the players available to him. Packaged plays and spread formations played to Dalton's strengths because Dalton primarily relies on his pre-snap read to be effective.
Dalton is a smart pre-snap quarterback. It's what has most allowed him to be effective over the course of his career. However, his inability to adjust when the defense shifts after the snap is what is most responsible for the plateauing of his skill set. Joe Goodberry recognized this and noticed a trend.
Common opponents, teams who had faced Dalton either the previous season or previously during the same season, understand that you can confuse Dalton if you show him one thing before the snap then change to something else after the snap. The numbers Goodberry has compiled are startling.
If you're looking for updated Common/Uncommon numbers for Andy Dalton, here you go. pic.twitter.com/CUM1WbGXJ4

— Joe Goodberry (@JoeGoodberry) October 20, 2016
Now that Jackson is the head coach of the Cleveland Browns, Jones is catching passes from Matthew Stafford, Sanu is playing for the Atlanta Falcons and Tyler Eifert has been out injured, the offense has suffered. DVOA, the Football Outsiders metric that measures efficiency on a snap-by-snap basis, ranked last year's offense as the second best in the regular season with the best passing game. So far this year the unit ranks 13th overall with an 11th-ranked passing game.
Dalton's raw statistics aren't that different from last season on the surface. He is throwing more passes but completing them at a slightly higher rate for a slightly lower average gain. His 6-2 touchdown ratio isn't exactly bad. The big change for Dalton this year is his sack total.
He had 20 sacks with 386 pass attempts in 13 games last year. He has 19 with 218 attempts in six games this year.
On Sunday, Dalton was sacked twice by the New England Patriots. One of those sacks was a safety that Dalton should have avoided. Before the ball was snapped, the Patriots came out showing Cover-2. Both safeties are deep and each is responsible for one side of the field. The alignment doesn't tip off man coverage or zone coverage as the underneath defenders are in position to comfortably execute either.
Man coverage is more likely based on the alignment of the cornerbacks though. The slot cornerback in particular is lined up square to the slot receiver.
Dalton is expecting a seven-man coverage with a four-man rush. He is expecting the four-man rush to come from the four defenders who are lined up on the line of scrimmage in pass-rushing stances. The Patriots don't hint at a blitz or shift late in the play clock to change their coverage. Importantly, their safeties stay deep and never alter suggest anything other than Cover-2.
The first thing we must acknowledge on this play is that it is not an easy one for the quarterback. He doesn't have a wide open option while the play design and execution from the defense is flawless. It's still a play that highlights Dalton's tendencey to mentally freeze after the ball is snapped. The Patriots rush four after the quarterback, but they use a double A-Gap blitz (both linebackers blitz up the middle) and drop both of their outside linebackers into coverage where Dalton expected their inside linebackers to be if the defense played zone.
One inside linebacker occupies the center and one of the defensive tackles occupies the left guard. This creates a clean lane for Dont'a Hightower who is coming from the other inside linebacker spot. He is coming from a deeper alignment though, so Dalton can get to the top of his drop and pause for a moment.
At worst in this situation, Dalton should take a sack without dropping backwards into the endzone for a safety. At best, he processes the play immediately and throws with anticipation to his seam right on the opposite side of the field. Like I said, this is a tough play though so expecting him to create positive yardage here is irrational. Creating the safety is the real problem.
The endzone angle better highlights this.
Dalton's first read on the play sends his eyes to his seam route on the left side. It's a slow developing route as the tight end needs to bend his route back inside after advancing towards the deep safety. With an unblocked linebacker coming up the middle, Dalton never has a chance of completing this play. He should recognize this quicker than he does and he definitely should react to the incoming rusher much quicker than he does.
Hightower penetrates the pocket directly in Dalton's line of sight. You could have more sympathy for the quarterback if he never had a chance to see the pass rusher coming but he did.
One of the things you will see more elusive quarterbacks do is wait until the last second to move so that the incoming defender's momentum carries him past the player he is trying to tackle. Dalton may have been trying to do this, but for that to work he needed to be much faster in his motions. Instead, his attempted escape only served to push him into a position and posture where it was impossible for him to fall forward out of the endzone.
This play occurred on Second-and-18. It was four vertical routes without a checkdown option. Jeremy Hill was in the backfield and he missed the blitz pickup on Hightower as he was drawn outside. This limited Dalton's options. That is where Jackson's absence comes into play.
When it is Second-and-18 near your own endzone in a four-point game midway through the third quarter, you don't need to be aggressively pursuing big plays downfield. In all likelihood Jackson would have used a screen or packaged play in this scenario to try and create a more manageable third down. This is where the offensive coordinator failed his quarterback.
Like I said, this wasn't a play an easy play but it was one that highlighted that slow process that has hampered the quarterback throughout his career.
Dalton has faced more pressure this year than last. Part of that is the offensive line not performing like it should, Cedric Ogbuehi in particular has been a disaster as the team's new right tackle. Part of it is the downgrade on the sidelines also. Mostly though, it's a reflection of how Dalton needs comfortable surroundings to be effective. He creates pressure himself too often with his process in the pocket. He is not a quarterback who elevates his teammates by diagnosing coverages instantly to get the ball out or a quarterback who has subtlety in his feet to set and reset so his linemen get better leverage in their one-on-one matchups.
I guess the term you would use for Dalton is a system quarterback but that is really a meaningless term. It's better to acknowledge that he is someone who can be an adequate facilitator when in a great offense but not someone who can mask flaws when they consistently appear.