Kirk Cousins and Empty Drives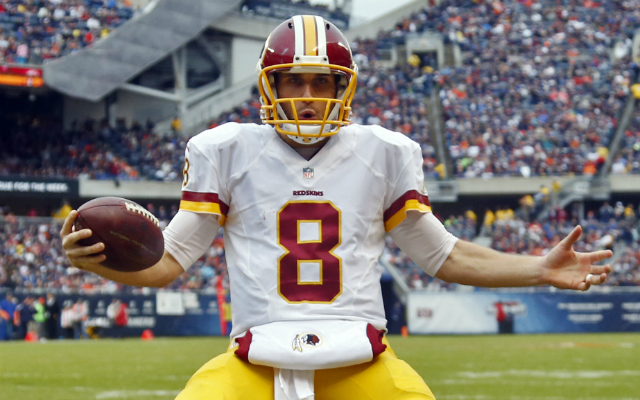 Kirk Cousins played well within his skill set on Thanksgiving. He stockpiled yardage to the tune of 449 on 53 attempts and finished the game with three touchdowns. Yet, Cousins also sabotaged his team on a couple of occasions and hurt their chances of winning the game.
Moving the ball wasn't a problem for Washington all game. Scoring was a major problem in the first half though.
On the first drive of the game, Washington got into field goal range before a holding penalty put them behind the down-and-distance. They were still in field goal range on Second-and-23. Despite still being in field goal range, the coaching staff immediately went ultra conservative. A draw run gained six before a wide receiver screen gained one yard.
Washington has one of the very best, if not the best supporting casts in the NFL. There is no reason for them to go so conservative as soon as they fall behind the down-and-distance. You can interpret their approach to that drive as a reflection on a quarterback who hasn't proven that he can consistently play behind the down-and-distance.
On the second drive, Washington got deeper into the redzone and Cousins was more directly at fault for their inability to reach the endzone.
Conceptually, the Washington offense wants Cousins to get rid of the ball quickly. However, every quarterback has to have an understanding of when to hold the ball and when to get rid of it. He has to feel the pass rush around him and understand the situation and coverage. On this play in the redzone, Cousins looks for his first read and it's either not open or the quarterback misses it. Once his first read isn't there he immediately throws the ball away.
There wasn't any real need for Cousins to rush into throwing the ball away. He could have stepped back and reset in the pocket or stepped back and broke out of the pocket to buy time for his receivers to get open.
It's not like you even need to be a great athlete or play in a different style of offense to make that play. Here's 39-year old Tom Brady doing exactly what Cousins should have done. Even if it doesn't result in a touchdown, you have to make a greater effort to create an opportunity for your teammates in the redzone.
On third down, Cousins does what he should have done on second down and escapes the pocket to extend the play. This was a tougher play too because the defender shedded his blocker. Alas, once he escaped outside he badly overthrows Jordan Reed in the endzone. Overthrowing Reed is like overthrowing Mike Evans. It simply shouldn't happen. Reed isn't as tall as Evans but as evidenced in the second half, he's got a huge catch radius.
Washington settled for a field goal and didn't even get a 50-50 opportunity for one of their receivers to score a touchdown.
At this point in the game, Cousins had already accumulated 114 yards but had also played a significant role—both directly and indirectly—in the offense settling for two field goal attempts instead of touchdowns.
It's important to reiterate at this point that Cousins overall performed well within his skill set. He made an impressive throw to DeSean Jackson to move the offense into the redzone for a third time in the first half just before the end of the second quarter. With three opportunities from the 10-yard line, Cousins was asked tot hrow the ball three times.
On the first of those three attempts Cousins determines that he is going to throw the slant at the top of the screen before the ball is snapped. He had three receiving options on the other side of the field and a safety sitting on the side of the field where he decided to throw the ball. His receiver was never open here. Cosuins would have had to throw a perfect pass to give him any chance and if he did throw that pass his receiver would still have had to survive the hit he had been led into.
Cousins' throw is easily defended as it is behind the receiver and lacking in velocity. More importantly, look at what the defense did.
The Cowboys wanted Cousins to throw this ball immediately. Like other teams have this year, they played his tendency to catch-and-release the ball immediately by rushing only three and dropping eight into coverage. Cousins needs to hold this ball and give his receivers time because nobody is open in their initial routes.
On second down Cousins holds the ball a little bit longer but again throws the ball earlier than he needs to. This time he completes the pass and gains yardage but throws short of the endzone into double coverage. Again, he did what the Cowboys wanted him to do. The defense rushed three and kept multiple defenders over the middle of the field anticipating that he would rush the ball out and throw into a crowd instead of extending the play within the pocket.
For all the talk of Dak Prescott and the pass protection he gets in the pocket, you at the very least have to give Prescott credit for being patient enough and poised enough to make use of that time instead of rushing his decisions in the way that Cousins does.
Third down comes and Cousins faces some pressure. As is typically the case when he is pressured, everything falls apart. He throws a pass that is equidistant between his two receivers to that side of the field. He either severely underthrew the fade that was wide open or made a bad decision trying to lead Jamison Crowder outside when Crowder was being bracketed by two defenders.
Missing the fade is the major problem here. The ball should have been out before the defender was close enough to touch him. Pierre Garcon had cooked the defensive back from the start.
On two drives with five redzone dropbacks, the most talented set of pass catchers in the NFL didn't receive a single opportunity at making a play on the ball in the endzone. It's not like Cousins' protection fell apart on each play to the point that he couldn't reasonably be expected to make a play. It's that he couldn't make plays outside of his limited skill set and the defense baited him into doing what they wanted him to do.
The other drive that Washington had in the first half resulted in a missed field goal. Washington was forced to attempt that long field goal because Cousins forced the ball into double coverage well short of the first down line when he had receivers open downfield. Again, Dallas played his tendencies and stopped the offense from scoring by doing so.
He opened the third quarter with another problematic drive as Orlando Scandrick should have intercepted an underthrown deep pass before a checkdown to a covered receiver from a clean poket on Third-and-15 forced a punt.
That was the point when Cousins had two strong drives. He was aggressive with his best weapons, giving Jordan Reed and DeSean Jackson opportunities to make big plays. Washington scored two touchdowns and were suddenly back in the game during the fourth quarter. Cousins deserves credit for those drives. He helped his team get back into it with good throws and smart decisions.
We reached 06:29 in the fourth quarter with Washington needing two scores to win the game. Now was the time for Cousins to stay aggressive and give his big-play receivers opportunities. You needed to score on this drive but it was just as important to score quickly.
Exactly like in Week 1 against the Pittsburgh Steelers, Cousins checked down when the defense desperately wanted him to check down. He threw for 74 yards and a touchdown, but the drive took 15 plays. Cousins kept checking down underneath instead of trying to create bigger plays further downfield. The drive opened with three five yard gains and a six yard gain. those plays alone cost them 01:29 of game clock. An 11-yard throw to Jordan Reed on the following play was the most aggressive Cousins was on the whole drive.
Dallas loved that. They played soft and cheered every single time Cousins helped them milk the clock by completing passes short and often over the middle. Each throw was bad decision after bad decision, but it helped to bloat his statistical output so…yay?
Washington didn't score until after the two-minute warning, essentially ending the game as a contest. Taking that long to score meant that Dallas only needed one first down to end the game and Washington's best chance was to recover an onside kick.
Cousins' overall numbers were again positive if you just look at them in a vacuum. But realistically, he didn't do enough to help them win the game.