What Tony Romo Specifically Offers Over Dak Prescott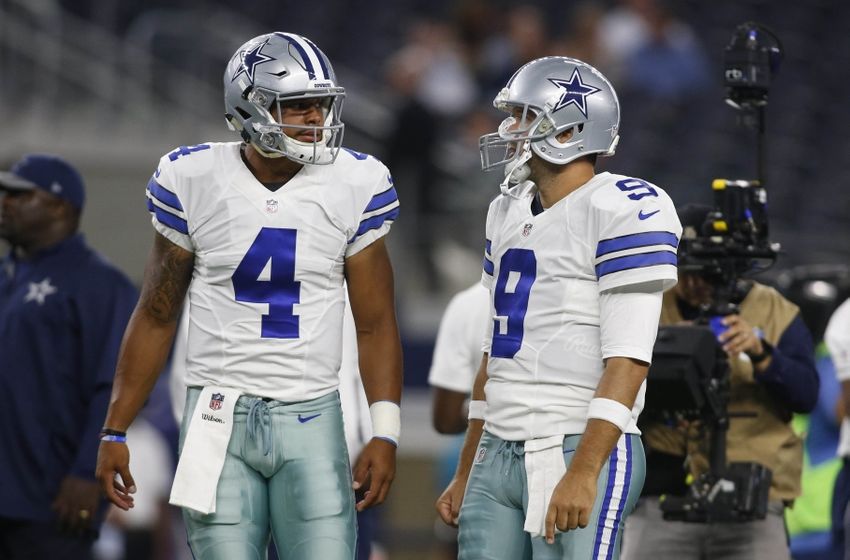 Dak Prescott has been sensational. He has massively overachieved relative to his draft position and status entering training camp as the third-choice quarterback. Prescott will have a chance to be a long-term starter for the Cowboys unless he stagnates or regresses after his rookie season.
If you frame Prescott like you would any other rookie, it's impossible to be anything but hugely impressed. By Week 3 he was doing things that most rookies never do.
Framing Prescott like that at that point of the season was easy. He was the Cowboys only option. Ever since Tony Romo has returned to full health, it's been harder to ignore the veteran's presence. Romo only lost his job because he was hurt. There was no chance Prescott could have forced it from him even if given the opportunity during training camp. Before Romo was hurt, he was one of the best quarterbacks in the league.
When you view Prescott against Romo, it's an unfair competition. It doesn't help Prescott that he has hit a rookie wall of sorts over recent weeks. He isn't showing off the same consistency as a passer or poise from the pocket. He's still played relatively well for the most part, but the passing game as a whole has all but shut down since a 301-yard, three-touchdown outburst against the Baltimore Ravens in Week 11.
Prescott has been the primary reason for the struggles of the passing game. Against the New York Giants this past week, Prescott was taken advantage of by the creativity of Giants defensive coordinator Steve Spagnuolo.
The first third down of the game for the Cowboys was a Third-and-3 on their own 25-yard line. Prescott got his offense out of the huddle quickly so they had plenty of time on the play clock before the snap. Prescott motioned Cole Beasley into a tighter alignment before the snap and the Giants responded by pushing one of their inside linebackers into the A-Gap so he could threaten to blitz.
So what does this pre-snap shift tell the quarterback?
This coverage looks like a five-man pass rush (red lines) with Cover-1 coverage (green lines) behind it. The linebacker helps to sell this coverage by turning his shoulders and fixing his eyes on the running back in the backfield. The safety on the right side of the defense is lined up directly in line with the tight end while all three quarterbacks are square to their receivers, though the narrow side cornerback is playing off while the wide side cornerbacks play press.
Prescott correctly recognizes what this alignment looks like but unbeknownst to him he will need to make a post-snap read.
Had the Giants played Cover-1 with a five-man pass rush, Cole Beasley would have been the perfect option for Prescott. Prescott had his eyes on the middle of the field before quickly turning to Prescott as he entered the break of his horizontal double move route. This suggests that Prescott knew he was going to Beasley based on what he saw before the snap. The Giants likely understood that Beasley is a preferred target for Prescott on third downs. As such, they anticipated this type of route and showed a six-man blitz before dropping both defensive ends into coverage.
Olivier Vernon, the right defensive end, drops into space in front of Beasley, taking away the passing lane underneath but also allowing Dominique Rodgers-Cromartie to stay outside of Beasley as he pushes his route infield. Beasley is essentially double teamed.
You'd forgive a rookie for being baited into an interception on this play. Prescott's poise shows up like it has for most of the season. He holds the ball instead of forcing it into a receiver who he expected to be open based on what he had previously seen. That is as far as Prescott's poise takes him. Without an obvious receiver to target, Prescott unnecessarily moves his feet and throws a wobbling, off-target throw to a well-covered receiver over the middle of the field. This lack of comfort holding the ball bails the defense out for its four-man rush.
Spagnuolo sold Prescott a blitz and replaced it with a four-man rush because the rookie's poise only extended to a point. Spagnuolo called the same play for Prescott's interception at the start of the second quarter, Prescott actually made a good throw and decision on that play, Dez Bryant just fell down in his route.
In the second quarter, Prescott ran himself into a sack and fumble when facing a Third-and-11. Spagnuolo initially had 10 of his 11 defenders pressed to the line before dropping into a Cover-2 look as Prescott began to audible. Once the ball was snapped, Prescott had a chance to throw the ball to Jason Witten on a deep curl route at the first down marker but didn't pull the trigger because he needed to attack relatively tight coverage. The defender wasn't looking at him though so Witten wasn't covered if the ball was delivered on time to the right spot.
Missing Witten led to Prescott moving his feet. Unfortunately for him he didn't feel the pocket around him and ran left when he should have shifted right.
Before the end of the second half, Prescott ended another drive by checking the ball down to a covered running back short of the first down line. The Giants rotated their safeties after Prescott audibled to throw off what he was expecting at the snap. Even then he still had an opportunity to hit Dez Bryant on a deep in-breaking route if he threw with anticipation but took the overly conservative option.
A Third-and-15 heave into Cover-3 that resulted in an easy interception for Leon Hall highlighted the worst of Prescott's third down struggles.
Spagnuolo understood how to play Prescott and the Cowboys passing game. The Cowboys were able to run the ball relatively well but couldn't build the passing game off of that foundation after an early long touchdown off of a hard play fake. What the Cowboys were lacking was diversity. Diversity that could be brought by Romo. Romo excels where Prescott struggles, he is a precision passer who can attack tight coverage to beat good coverage or throw receivers open over the middle of the field. He also possesses more awareness and patience in the pocket than his recent teammate.
That's no slight on Prescott, Romo is better than more than 90 percent of the players in the league at those things. It's the primary reason why he should be starting.
There is a near-endless supply of plays that can be used to showcase Romo's skill set and the added elements he will bring to the offense. The best one comes from a 2013 matchup with the New York Giants. Romo shows off ridiculous patience to extend this play within the pocket. While the protection is obviously excellent, you can compare how Romo shifts his feet, shoulders and eyes in this gif with how Prescott moves in the plays above. He stays aware of the pass rush throughout the play and cycles from left to right and back again before reset his feet deeper in the pocket to buy even more time.
At the end of the play, Romo throws Jason Witten open with precision and anticipation. Had he waited for Witten to get open, he would never have released the ball. His ability to get rid of the ball allowed him to avoid an arriving sack from Jason Pierre-Paul. This is a play that Dak Prescott simply can't make at this stage of his career.
Prescott will hopefully develop in these areas so the Cowboys can build their future around him. That's not going to happen within a week or a month though. It will take years.
All of the elements from the above play encapsulate what Romo brings to the whole offense. At 36 years of age, coming off of back surgery, there are obvious questions about Romo's health and durability. He shouldn't have any chemistry question marks. Romo has been a fixture in Jason Garrett's offense for as long as Garrett has been there. Furthermore, he has played extensively with all of the Cowboys' receivers and tight ends.
Putting Romo in is giving yourself the best chance of winning a Super Bowl this year. He makes your offense better at a time when your limited offense already allows you to be a contender. Even if Romo plays and gets hurt, worst case scenario remains going back to Prescott and running the offense that you have right now. Prescott doesn't appear to be the type of personality who would respond poorly to that situation if it emerged. Especially considering how Romo reacted to his own situation.
This decision shouldn't be about who has earned the right to start or who has been available to this point of the season. It should be about who makes the offense better and gives the team the better chance to win.