Regardless of Super Bowl Result, 2017 One of Tom Brady's Best Seasons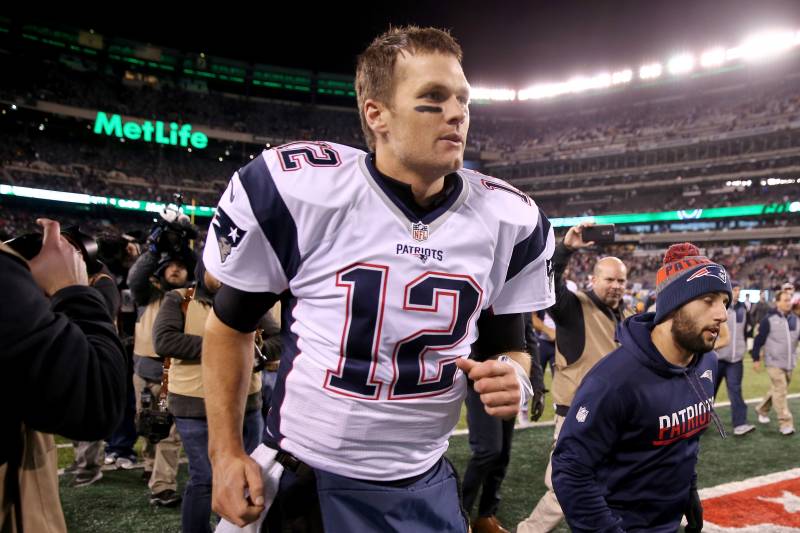 Julian Edelman's ACL tear in August was huge. It hasn't derailed the New England Patriots season — then again to this point all they've done is overcome three truly terrible teams to win the AFC East before beating two AFC South teams to reach the Super Bowl so that's really not saying much. Edelman led the Patriots in receptions in 2016 with 98. James White was an incredible 38 receptions behind him with the second most.
It wasn't just that Edelman was targeted so often. His skill set defined the Patriots' passing game.
Sustained success is created by matching a skill set to a situation. Tom Brady's hall of fame career has been extended through his thirties because his skill set was designed to age well and Bill Belichick has understood how to build around it. Brady has a rare acumen. His ability to diagnose alignments before the snap to get the ball out instantly at the snap is unparalleled. He is a brilliant touch thrower who anticipates windows and rifles through progressions faster than all of his peers.
None of Brady's best attributes have ever been physical His arm strength isn't limiting but deep passing was never his strength. He had enough arm strength and accuracy to push Randy Moss to a touchdown record but Brady's skill set has always been better suited to work the short and intermediate game rather than holding the ball in the pocket to deliver into tight windows downfield from a collapsing pocket. When you're so far ahead of the opposition mentally and you're set up in an offense that doesn't force you to push the ball downfield, you can endure some physical decline.
Losing Edelman altered the identity of the Patriots passing game. Brady could no longer solely rely on his acumen to be an elite-level passer at the short and intermediate levels. Now he had to push the ball downfield. Now he had to rely on Brandin Cooks as his primary receiver, not Edelman.
In 2016, Brady threw only 49.14 percent of his passes further than five yards downfield. 19 quarterbacks threw more of their passes that far downfield. Ahead of the Super Bowl, Brady has thrown 55.38 percent of his passes further than five yards downfield. More than six percent of an increase. That increase is felt most in the 6-10 yard range and on deep balls.
This change is reflected in the offense shifting focus onto Cooks and Rob Gronkowski.
During the regular season, Gronkowski and Cooks finished with very similar numbers. Gronkowski led the team with 69 receptions, Cooks was just behind him with 65. Gronkowski led the team in yards with 1,084 but Cooks had 1,082. Gronkowski had eight touchdowns. Cooks had seven. Unlike Edelman last season, there was no clear number one receiver in New England. So much so that Danny Amendola's 18 catches over the past two playoff games means he now leads the team in receptions for the season.
Edelman's quickness made it very difficult for cornerbacks to stick with him through horizontal breaks. His ability to make double movements in tight spaces would create wide open windows for Brady to throw into so playing tight coverage was a dangerous strategy. Pressing Edelman wasn't easy. He was short, which took away the surface area to engage, but also possessed a strong upper body. When defensive backs sat off of him he would be so quick off the line and into his route that Brady could put the ball in a spot where the defender had no chance of impacting the play.
When defenses played zone or the Patriots spread the field with five receivers, Edelman often got matched up with linebackers who had no chance of running with him.
Edelman averaged 11.3 yards per reception in 2016. 65 of his 98 receptions gained 11 or fewer yards. Brady was able to consistently get rid of the ball quickly without straining himself physically while keeping the offense ahead of the down-and-distance.With Danny Amendola, Chris Hogan, Rob Gronkowski and Martellus Bennett dictating how defenses had to play them, it was an ideal situation for a quarterback with Brady's skill set.
He could pick and choose when to go deep. Shot plays were sprinkled into the play calling. Shot plays that relied on hard play fakes so the quarterback generally had to place the ball in a large amount of space rather than hit a tight window.
When the defense's primary concern is the short passing game they become more susceptible to shot plays. When the defense doesn't have to worry about the quarterback cutting them up underneath over and over again it becomes easier to keep both safeties back or to play softer coverage. Danny Amendola is a very good receiver who is capable of being a mismatch against linebackers or safeties but he's not what Edelman was. The degree to which teams fear Amendola is not the same with which they fear Edelman.
So Brady this season has been taken out of his comfortable situation. For the first time in a long time his scheme and situation has stressed his weaker spots rather than emphasize his strengths.
For a 40-year-old quarterback, his response to that has been pretty incredible.
Brady's interceptable pass numbers have gone through the roof. He threw only 16 interceptable passes on 574 attempts — 2.79 percent — last season, with nine of those coming in two playoff games. So far this season he has thrown 29 interceptable passes on 672 attempts — 4.32 percent. That's a significant leap but it's also a leap that is to be expected for a quarterback who is now executing a more strenuous offense.
A quarterback who is executing an offense his skill set doesn't perfectly fit with.
Overcoming his own offense has been impressive, but one of the big concerns with Brady after last season was how he finished the year. Those nine interceptable passes occurred largely because Brady's accuracy declined as the season wore on. That wasn't an issue this year. Brady has been a slightly subpar deep passer this season relative to the league average for last season but had his best game throwing deep in the AFC Championship Game. He was accurate on five of eight 21+ attempts against the Jacksonville Jaguars.
Brady's second throw of the game was a 23-yard dart to Cooks that ultimately gained 31 yards. He hit Gronkowski with a perfectly flighted 30-yard pass down the right sideline soon after, but his tight end couldn't make a difficult play. His best throw of the day came during the fourth quarter. It was a flea-flicker to Philip Dorsett. Flea-flicker throws typically go to wide open receivers because of how aggressive the play fake is. This one didn't.
The first option on the play was the deeper route downfield. That as covered so Brady had to come to the backside of the play for Dorsett. He was actually a tad late to get to his receiver, a rare thing for Brady, but was able to throw a touch pass that cleared the linebacker 24 yards downfield.
When you have a quarterback with a high acumen and an ability to manipulate/anticipate throwing windows, getting him to turn his back to the defense is typically not a good idea. Brady hasn't been a quarterback who is suited to hard play fakes. The Patriots have never relied on hard play fakes with him as the primary option on offense. Why take his eyes away from the coverage?
In 2016, Brady used play action on 12.54 percent of his attempts. 16 quarterbacks used play action more often but only nine quarterbacks gained a higher percentage of their yards on play action plays. That is because the Patriots largely only used play action for shot plays downfield. Those designs caught defenses off guard and cleared out space for Brady to lay the ball into.
So far in 2017, their receivers' reliance on vertical routes has forced the Patriots to be a more aggressive play action team. 21.28 percent of Brady's dropbacks have used play action this season.
Using hard play fakes puts a greater onus on the quarterback's accuracy and arm strength rather than his touch or anticipation. The Patriots rarely ask Brady to leave the pocket on play fakes, they have exclusively done so on goalline plays so far this season and only three times in total. That is because the Patriots aren't trying to half the field for Brady and they're not trying to get him to throw the ball while on the move. They are prioritizing the mental/technical elements of his skill set over the physical.
When the Patriots don't ask Brady to execute a play fake he can still manipulate the coverage and throw receivers open on deeper throws like he does on short and intermediate routes.
In the above play the Patriots are facing a Third-and-18. Brady gets good protection against a four-man rush but moves laterally in the pocket when there is no obvious need to. He keeps his eyes to the left but turns and squares to the middle of the field at the last moment before releasing the ball. What Brady has done here is manipulate the linebacker reading his eyes over the middle of the field to create a wide throwing lane.
Brady's pass arrives low but that ultimately protects it from the safety coming over the top of his intended receiver.
Performing that well against the Jaguars defense is a major achievement. The Jaguars have a significantly better secondary than the Philadelphia Eagles but the Eagles should be able to get more consistent pressure than the Jaguars did. How Brady handles that trade-off will determine how much success he can have throwing the ball downfield in the Super Bowl.
The Super Bowl will determine how memorable this season ultimately is for Brady but even at this point this should go down as one of the best seasons of his career. He's a quarterback who has often been over-celebrated for overcoming bad situations that weren't actually bad. This situation isn't bad either but it's not an ideal fit for him. He still has weapons and he still has good pass protection, he's going to need Danny Amendola, James White and Dion Lewis to combine to fill Edelman's role if the Patriots offensive line can't give him time to work the ball vertically.
Even with Nick Foles, the Eagles are by far the best team the Patriots have faced this season. Brady can't afford to struggle for 3.5 quarters like he did 12 months ago.