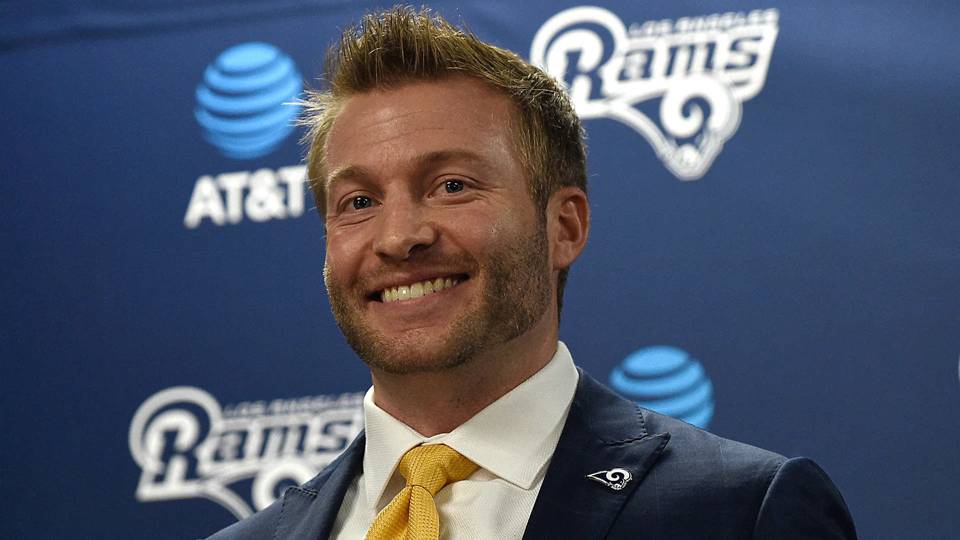 Quarterbacks are regularly defined by their biggest plays. Few quarterbacks with good touchdown-to-interception ratios are considered bad. No quarterbacks with bad touchdown to interception ratios are considered good. Touchdown-to-interception ratios carry a lot of weight in arguments for or against quarterbacks, unless you're Colin Kaepernick then it magically doesn't matter for some reason.
Jared Goff threw five touchdowns and seven interceptions during his rookie season. It made it easier to paint a picture of how poorly Goff played.
The first-overall pick in the 2016 draft was truly atrocious. He wasn't just bad because he was a rookie or because he played in a bad offense, he regularly defeated himself without ever giving plays a chance to succeed. He stared down receivers, turned away from any hint of pressure and constantly missed wide open receivers by large margins.
Now that Goff's numbers have swung in the other direction the easy answer is that he's developed into a good quarterback. Goff has thrown 16 touchdowns to just four interceptions while averaging 8.5 yards per attempt this season. He is no longer beating himself before the play even begins. He's falling over on his own less often and making throws an NFL quarterback would expect to make.
With that said, he hasn't really developed that much. Goff has gone from an atrocious quarterback to a subpar quarterback. But a subpar quarterback in the ideal situation can be a productive player. And that's what is happening in Los Angeles.
Goff's small step forward was part of a complete rebuild of the Rams offense. Andrew Whitworth and John Sullivan changed the makeup of the offensive line. Sammy Watkins, Robert Woods and Cooper Kupp gave Goff a diverse and congruent receiving corps. Gerald Everett added an athletic tight end to the already talented Tyler Higbee. With Sean McVay at the helm calling diverse plays that kept defenses off balance and used players appropriately, the Rams were able to let Todd Gurley be Todd Gurley.
All of those changes led to Jared Goff's bloated output. All of those changes can be consistently seen in Goff's touchdowns.
Touchdown 1:
Goff threw his first touchdown of the season in Week 1 against the Indianapolis Colts. The Colts could do little to contain the Rams offense in that game, Goff threw for 300 yards and the final score was 46-9. This was Goff's only touchdown of the game though. It was emblematic of the mismatch between the Rams offense and the Colts defense.
This play begins long before our quarterback touches the ball. Sean McVay uses motion before the snap to help his quarterback anticipate coverages. On this play, Robert Woods moves from his wide left position into the right slot, a defender follows him across the field while the linebacker on the opposite side of the field takes a more square-on alignment to the tight end who is stacked with Cooper Kupp.
Kupp and the tight end release from the same area of the field and then run routes that complement each other. Kupp advances downfield for his post route while his compatriot breaks infield on a shallower route. This puts both receivers in the same line of vision for Goff. Goff never takes his eyes away from the left seam throughout the play.
With the routes complementing each other it's harder for the safety on that side of the field to read Goff's eyes. He stays in one position as Kupp advances past his outside shoulder. Meanwhile, Goff has reached the top of his drop and is standing like a statue in the pocket. His pass protection is so good that he can stand in the same spot and wait until Kupp has come out of his break.
He even waits for another moment, for Kupp to take another step in behind the coverage.
It appears that the other safety blew his coverage. He was drawn to an underneath defender and his reaction as the play developed suggested he was late to recognize that he was out of position. That left a void in the middle of the field for the Cots. Goff didn't need to fit the ball into a window or throw with anticipation. His pass protection was so good that he could wait and release the ball late. The coverage was so bad that he wouldn't be punished for releasing the ball late.
Touchdown 2:
The biggest play Goff made in Week 2 was to throw a game-ending interception late in the fourth quarter. He did throw his second touchdown of the season in the third quarter. It wasn't a play that requires a huge amount of explanation. Goff settled at the top of his drop with no obvious receiver to throw to. When frontside pressure came, he bailed and found Todd Gurley in the flat.
Gurley turned a solid play from his quarterback into a big gain and a touchdown by making a defender miss after the catch.
Touchdown 3:
Gurley was the target again for Goff's first touchdown of Week 3. This Thursday Night Football game against the San Francisco 49ers was by far Goff's best game of the season so far. He made a handful of very impressive plays, highlighted by a perfectly placed and flighted deep ball to Sammy Watkins down the left sideline.
McVay plays a big role in this play. He has clearly instructed the Rams to hurry to the line and snap the ball instantly, which they do, so the defense never has an opportunity to get itself set.
The result sees Goff get an easy pick play touchdown to Gurley. Because the Rams isolated their tight end on the near side of the field and put three receivers on the wide side, the defense was stretched towards the opposite side of the field. The defender covering the Rams' tight end was in a press position, aligned square on, meaning he wouldn't factor into the play unless he dropped outside at the snap.
With that alignment, Goff knew that Gurley would be open. The linebacker who would need to track Gurley would either cut behind the pick play or in front of it. Had he cut in front of it Goff would have had a tougher throw to push the ball outside with a higher trajectory. Once the linebacker went behind the pick, Goff only had to release the ball on time.
Touchdown 4:
Packaged plays were a staple of Kyle Shanahan's success with the Atlanta Falcons last season. A packaged play is a running play where the quarterback has the option to throw the ball based on the alignment of the defense. These are typically easy reads where the quarterback only has to check if a cornerback is lined up inside or outside of his intended receiver. This play is almost a carbon copy of Julio Jones' touchdown against the Seattle Seahawks in the playoffs last year.
By bunching two receivers together, McVay forces the defensive backs into a more predictable alignment. When Goff sees the inside defender is square to Cooper Kupp, he knows Watkins will be open underneath.
The pass Goff throws isn't a great one but Watkins holds on for the score.
Touchdown 5:
For the second time in the same game, Goff throws a touchdown off of a quick snap play. This time the quick snap has an even greater impact as the defense's coverage is disrupted. When Goff looks to the right flat initially, he can see three defenders, one of whom is covering the wrong receiver, so he brings his eyes back to the middle of the field.
Goff's pocket stays clean and Watkins is left wide open over the middle.
Watkins is open because the linebacker playing zone coverage underneath reacted to Goff's initial eye movement and because the coverage outside of him was blown. Watkins had initially lined up at the top of the triple bunch to the left. The outside cornerback is responsible for him so he follows him infield but when Watkins settles the defender stays deep, as if expecting someone else to take over his assignment.
That never happens. Goff delivers an accurate short pass and Watkins beats multiple defenders to power his way into the endzone.
Touchdown 6:
This is Goff's best touchdown to this point of the season. Motion is again used before the snap to get a hint of what coverage the Cowboys are going to play. When the cornerback follows Woods from left to right, Goff anticipates man coverage. At this point he knows that he is going left with the ball, but he needs to figure out which route he is going to throw to.
Figuring that out requires looking at the middle of the field. Goff checks the linebackers lingering over the middle, when they don't move he understands that his slant route from the left will have a defender in the passing lane.
He whips around quickly to keep the timing of the play before delivering a perfect fastball past the defensive back trying to undercut his out route.
Touchdown 7:
Jeff Fisher used to use Tavon Austin as a wide receiver. He would give him carries also but Austin's role was too broad. He can't run routes and offers a tiny catch radius. McVay has reduced Austin's role to that of a gadget player, something he should have been in from the start of his career. Austin now has legitimate value to the Rams offense because he helps to distort defenses.
That is what happens on this play. The threat of Austin on an end-around pulls the linebackers out of position and Goff hits Gurley on a vertical route out of the backfield.
For Goff, timing this pass and hitting the wide window was important. But it's a throw you'd expect every starting quarterback in the NFL to make. That is because McVay created a wider window with Austin but also by making Gurley look like a lead blocker before running a route nobody expects a running back to run. Again, Kyle Shanahan used vertical routes from the backfield with great effect last season, but it's a sparsely used concept in the NFL.
Touchdown 8 and Touchdown 9:
These plays came in back-to-back weeks. Sean McVay uses a variety of different screen designs to great effect. Although these plays are very different, they are both screens with designed blockers on a play where the quarterback doesn't have to read the defense after catching the snap.
Touchdown 10:
NFL teams tend to drop eight players into coverage and only rush three defenders after the quarterback in the endzone. It's typically a smart move but not so when they drop a run-stopping defensive tackle into the middle of the field. As a rookie Goff would have panicked and beaten himself on this play. He has gotten used to holding the ball in clean pocket snow though.
Goff holds the ball long enough for someone to come uncovered in the spot where the Giants defensive tackle should have been. It's important that he moved his eyes and his feet to force the coverage to react to him.
Touchdown 11:
A Third-and-33 give-up screen going for a touchdown tells us a lot more about Ben McAdoo's defense than it tells us about the Rams quarterback.
Touchdown 12:
Sammy Watkins' value to the Rams has been significant. He is creating offense and forcing defenses into more predictable coverages because of his big-play threat in single coverage. Goff hasn't consistently connected with him on deeper throws, limiting Watkins' production, but he found him on this play.
What made this an impressive play for Goff was less the throw, once Watkins was isolated on Landon Collins it was relatively easy, and more the acumen shown. Goff audibled into this play call and released the ball at a perfect time to exploit the coverage.
Touchdown 13:
A hard play fake, a big lead and smart route combinations helped the Giants blow a coverage on this play. Goff had just enough time to wait for Woods to clear any defender who could have reacted to him in space.
Touchdown 14:
The Houston Texans largely did an excellent job of containing the Rams offense. The Rams had three drives in the first quarter and didn't move the ball once, they finished with three points because one of those drives started in the redzone. It wasn't until the third quarter when the Rams really did anything, but it was a significant thing.
McVay searches out big plays with aggressive play fakes and smart route combinations. He got some help from the Texans on this play.
With Goff close to his own endzone, the Texans decided to be more aggressive than they had been to that point. They went in search of a safety, leaving the back-end of the defense in perilous positions. Cooper Kupp, the slot receiver, was doubled from the beginning of the play, a curious decision that made Goff's read easy. He hit Robert Woods in stride with no safety over the middle for a 90+ yard touchdown.
Touchdown 15:
Andrew Whitworth and Sammy Watkins combined on this screen. Another touchdown on another different screen design.
Touchdown 16:
Likely because he recognized the deep safety tipping to Watkins' side of the field and the shifting the defensive backs made on the opposite side of the field when reacting to pre-snap motion, Goff audibled into this play for a touchdown. The hard play fake and reverse end-around for Robert Woods created space for the receiver to run in a touchdown after a simple throw from Goff.
Goff's 16 touchdowns all highlighted excellent execution around him and extremely diverse play calling.
There aren't examples of Goff evading pressure, delivering the ball into the endzone with hands in his face or just before absorbing a big hit. He doesn't throw receivers open into tight windows. He's executing as a piece within an outstanding offense rather than an outstanding piece in any offense.
He's further helped by three plays (excluding screens) where one of his teammates made a defender miss to run the ball into the endzone, two plays with blown coverages and one play where he got a huge mismatch with Watkins running against Landon Collins.
Goff's 16 touchdowns play a huge role in determining his perception as a good quarterback. He's an improved quarterback over last season, but when you go through his snaps so far this season it becomes evident that there's a real risk of him being overrated because of his production. He is so rarely moved off of his spot or asked to make difficult throws that it's hard to assume he would be effective without a great supporting cast.